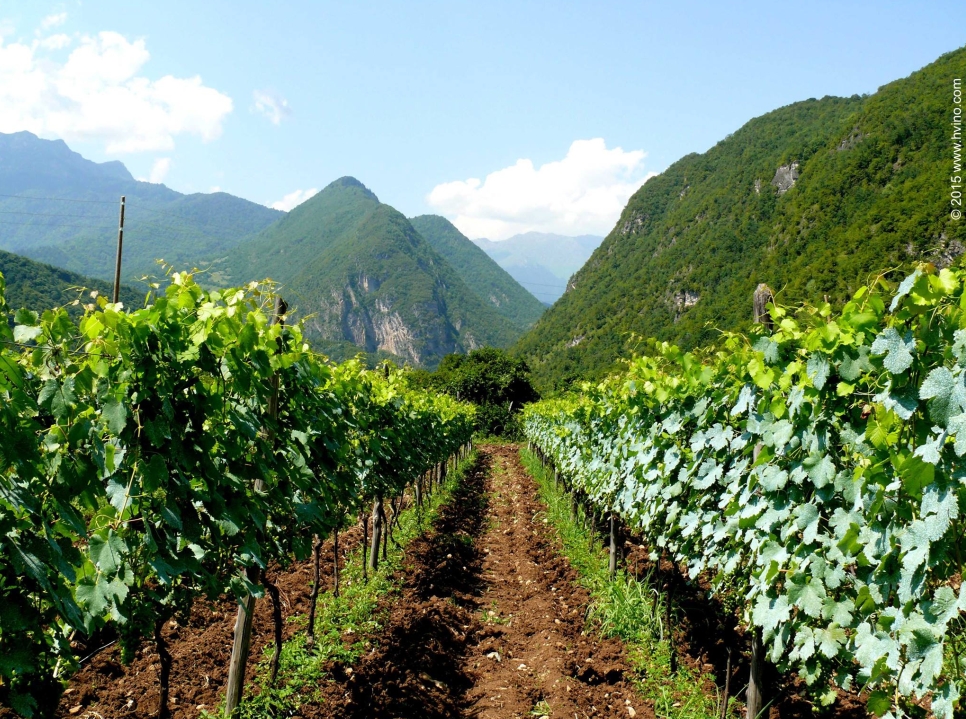 23.09.2015. Many of you have heard about the fact that Georgia is the cradle of wine, and viticulture originated here about 8,000 years ago. You may examine archaeological findings, wonder how clay vessels qvevri differ from more common barrels, read about how the slopes and microclimate zones affect the taste of wine, but it is better to come to Georgia and to try all this treasures with your own receptors.
Let's start with Kakheti region, where the largest amounts of grape varieties grow. Beautiful fertile Alazani Valley, white peaks of Caucasus mountains, castles and churches – you can get drunk only on this beauty and spirit of ancient times! But since we are talking about wine, let's review the most popular Kakhetian grapes.
– Saperavi, red. Many flavourful wine sorts are being produced out of it, and their taste is getting richer with the age. It grows in micro zones of Mukuzani-Akhasheni, Khashmi, Kindzmarauli, Napareuli, Kvareli and Kondoli.
– Rkatsiteli, white. The most important grape variety used to make traditional Kakhetian white wines. This wine is most popular in Georgia and is found in other regions along with Kakheti. In addition to a traditional
qvevri
wine, Rkatsiteli is used to make classical (European) dry, semi-dry and dessert wines. It has a taste of quince and other fruits. Rkatsiteli wine made in traditional Kakhetian way has an interesting aroma of walnut and other plants.
– Mtsvane Kakhuri, white. Also suitable for wine-making of both technologies. It's bouquet is dominated by peach tones. It is best to try it in Manavi and Tsinandali, Ikalto and Akhmeta.
– Khikhvi, white. Gives distinctive classical (European) and Kakhetian (
qvevri
) sorts of wine. Khikhvi made in European way is attractive due to flavor of exotic plants, and field flowers such as willow etc., while Khikhvi made in
qvevri
has aroma of ripe fruits and fruits and yellow dried fruits.
– Kisi, white. Its major micro zones are in Telavi, Kvareli and Akhmeta. Wine from
qvevri
produced from kisi has a taste of ripe pears, tobacco and walnut.
Wine places we definitely recommend to visit in Kakheti are Kvareli (Eniseli, Shilda), Akhmeta (Zemo Alvani, Khodasheni) Napareuli, Tsinandali, Gurjaani (Velistsikhe), Tibaani and Telavi. These towns and villages have several wine cellars and shops where you can taste the best wines of Kakheti region.
If you are traveling by car, the WINE ROUTE signage will point you to our favorite places. If you decide to travel by public transport, the major towns and villages of Kakheti can be reached from the station Samgori (Moscow Ave 2, next to the metro station Samgori; phone: +995 322 74-63-23, +995 599 39-35-35), Isani (Atskuri str. 45, next to the metro station Isani, phone: +995 558 35-42-57) and Ortachala (Gulia str. 1, phone: +995 322 75-34-33).
Next Eastern Georgian region, which should be mentioned, is Kartli. Its most notable and popular grape varieties are the white ones: Chinuri and Goruli Mtsvane. Chinuri's peculiarity is in tones of mint and pear, and Goruli Mtsvane's bouquet is dominated by tones of lime and wildflowers.
You can taste these wines in Gori, Ateni, Kaspi, Mukhrani. Vans in these direction leave from the station Didube in Tbilisi (phone: 995 322 34 72 39 +995 322 34 49 24).
While moving direction to West Georgia, let's go to Imereti. After exploring beautiful canyons, waterfalls, caves and churches from UNESCO Heritage List, you can also taste wonderful wines, the most common of which is Tsolikouri. In terms of habitats and size of vineyards, Tsolikouri ranks second after Rkatsiteli in Georgia. Late maturing, it produces a straw-colored wine with a rich bouquet flavoured with tones of plums, yellow fruits and flowers. Apart from it, in Imereti grow the following grape varieties:
– Krakhuna, white. Wines from it are saturated, straw-colored, with tones of apricot, banana and honey.
– Tsitska, white. It is a base for greenish or straw-colored wines with flavour of plants, taste of pear, melon and lemon.
– Otskhanuri Sapere, red. This vine is of late-mid maturity, that matures in mid or late October, sometimes in the mid November, gives raspberry pink wine. Young wine has plant aroma, relatively rough taste, however after aging obtains deep and elegant bouquet, with distinctive, rich and long aftertaste.
If you want to taste Imeretian wines "on spot", go to Zestafoni, Bagdati and Terjola. To get to these towns by minibus is possible from Tbilisi's Didube station or Central Station, as well as from Kutaisi and Batumi bus stations.
The region of Racha-Lechkhumi is one of the most picturesque regions of Georgia, relatively less explored by the tourists. And yet, it is the birthplace of rare wines! Well-known red semi-sweet wine Khvanchkara comes from Racha. It is the result of combination of two sorts of grapes: Aleksandrouli and Mujuretuli that grow in the micro-zone near the village Khvanchkara. By themselves, these two varieties have a rich berry taste, and when combined, they have even richer flavor and aroma.
Besides those two sorts, Racha-Lechkhumi is a home to another rare variety of red grapes, Usakhelouri. Its micro zone is in village Tsageri. Production volumes of this wine with harmonious fruity taste are low, that's why it is especially appreciated.
White grape variety of Racha is called Tetra. It has a distinctive lime-and-honey aroma, and is almost absent in bigger stores. So it is definitely worth to go to this beautiful region, enjoy the view of mountains and taste of rare wines! You can try them in Tsageri, Ambrolauri and Bugeuli – mini buses to those villages leave from Kutaisi bus station (phone: +995 431 03-27-27) and Didube station in Tbilisi.
In the region Guria, which is considered to be cradle of the wittiest people of Georgia, Georgian rose is also born. It is made from the variety Chkhaveri, a very late ripening sort of grape, which has a subtle sour peach flavor. Tasting of this wine is possible in Chokhatauri, which can be reached by a mini bus from Kutaisi, Batumi and Tbilisi's Didube bus station.
Chkhaveri also grows in Adjara, as well as mentioned above Tsolikouri. The tasting can be arranged in Keda and Khelvachauri – on the way to the wineries you will definitely enjoy the mountain scenery of Adjara (yes, it is nice not only at the seaside!). To go there, take a mini bus at Batumi bus station (phone: +995 422 27-85-47).
Finally, there is another important region and sort of grapes: Ojaleshi grape growing in Samegrelo, the part of Georgia, which is also famous for extremely spicy cuisine. The best Ojaleshi is cultivated in Senaki and Martvili. It is a sort of very late ripening, the harvest of this sort starts in the end of November – beginning of December, and has a rich deep flavor. Try this wine in Salkhino – in this place the summer residence of the noble Dadiani family is located, so it's another great chance to combine tasting and cultural program.
Any Megrelian village can be reached from Zugdidi, the central town of the region. The mini buses can be found near the railway station and near the market.
To add this Search Box to your website, click here. Many designs are available.