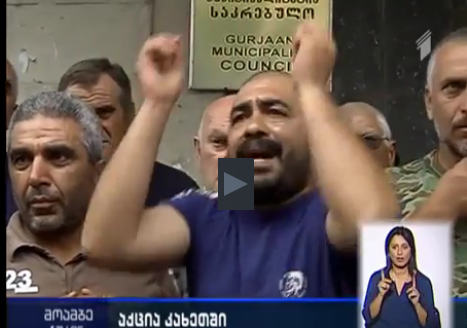 13.09.2015. Police and dozens of wine grape growers, protesting lower grape prices, scuffled briefly in Gurjaani, eastern region of Kakheti, after the demonstrators tried to block the main road running through the town on September 11.
At least three people were detained by the police.
The declining export of the Georgian wine has pushed grape prices down by roughly 40-55% compared to last year, when the average price for a kilo of grapes varied from GEL 1 to GEL 1.9, depending on quality and variety of grapes in Kakheti region, which is home of more than half of Georgia's vineyards.
Grape growers have been protesting for the last couple of days in Gurjaani, demanding from the authorities to increase subsidies and claiming that the existing prices fail to cover their expenses.
Similar to last year, the government keeps subsidizing grape prices, adding GEL 0.35 per kilo of white grape on top of what the wine maker companies and processing factories will pay; subsidies amount to GEL 0.15 per kilo of red grape in Kakheti.
Responding to a protest rally in Gurjaani on September 10, Agriculture Minister, Otar Danelia, said that the government was initially going to scrap the grape price subsidy scheme, but decided to keep it taking into account falling wine exports.
Georgian wine exports have declined by 45.7% in the first eight months of this year to 19.8 million 0.75-liter bottles, compared to 36.5 million in the same period of 2014.
The fall is caused by sharp drop in wine exports to Russia and Ukraine, which declined by 58% and 63% year-on-year, respectively, in January-August, 2015.
Georgian wine exports to its other major markets have increased in the first eight months of this year.
Despite the sharp decline, Russia still remains the largest export market for Georgian wines, where 10.1 million bottles were exported in January-August 2015, followed by Kazakhstan – 2.9 million bottles; Ukraine – 1.73 million bottles; China – 1.18 million bottles, and Poland – slightly over 1 million bottles.
Danelia also said on September 10 that the government will not increase the grape price subsidy, adding that the scheme is in itself controversial as many are opposed to the state subsidies. He also said that if private wine producing companies and grape processing factories would not buy the excess of grapes from farmers, the state-owned companies would purchase the remaining stock for a price ranging from GEL 0.6 to GEL 0.85.
The Agriculture Minister's statement about the government's refusal to increase subsidies was followed by a renewed protest rally by grape growers in Gurjaani on September 11.
On the same day, a group of farmers from Kakheti arrived in Tbilisi and attended a session of parliamentary committees for agriculture and economy with the facilitation of opposition lawmakers. They were also demanding an increase of state subsidy.
"You were promising [to farmers in Kakheti] that the grape price would have be no less than GEL 1 per kilo and people remember this promise. Now they came here to see if you will make good on this promise," UNM MP Nugzar Tsiklauri said at the hearing.
Chairman of the parliamentary committee on sector economy, MP Zurab Tkemaladze, said that a separate hearing will be scheduled for early next week to discuss the issue in details.
To add this Search Box to your website, click here. Many designs are available.