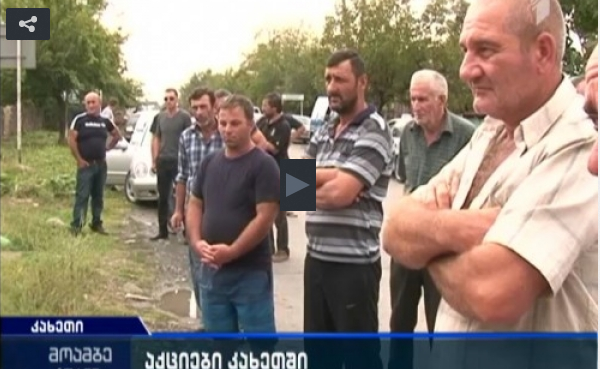 13.09.2015. (Hvino News). Farmers from Kakheti region, who are protesting over low wholesale grapes price, arrived in Tbilisi and demanded to be allowed to attend the sitting of parliamentary Agrarian Committee.
The farmers were admitted to the parliament. The farmers are protesting against Agriculture Minister Otar Danelia's recent statement, according to which, farmers receive a 100% profit from the current grape price.
In Kvareli district of eastern Kakheti, farmers have been gathering region since Monday morning to protest over the price of grapes. At this moment a hundred farmers are gathered in Telavi-Kvareli highway. They attempted to block the road, but the police did not allow them to do it.
Farmers demand increase of price for grapes per kilogram and a meeting with Otar Danelia, Georgian Minister of Agriculture. The farmers allege that white grapes cost 0.6 GEL per kilogram, while the price of redsaperavi is 0.85 GEL.