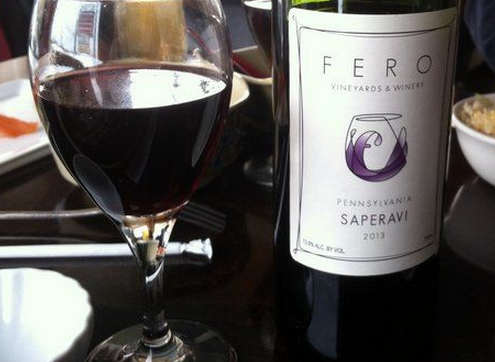 19.08.2015. Fero Vineyards and Winery in Lewisburg specialize in European grape varieties. One that has found a home is Saperavi, the most common black grape from the country Georgia. Chuck and Daneen Zaleski, owners, sourced Saperavi vines from the descendants of Dr. Konstantin Frank. Years prior to coming to the United States, Dr. Frank was a vineyard manager in Georgia. He settled down along Keuka Lake in New York's Finger Lakes wine region. Several wineries in Eastern United States have acquired grapevines of Saperavi and the white grape Rkatsiteli from Dr. Franks vineyard.
While visiting Fero Vineyards and Winery, we ambled with the vineyard staff to the top of a hill where the nine rows of Saperavi form a vanguard of the 12.5 acre vineyard that includes several other European varietal grapes. The Saperavi grapes began
véraison
two weeks ago. Tasting a riper looking berry, we noticed the seeds were still green as would be expected. The grape was flavorful and starting to develop the sugar content. The vines looked healthy and we were told that even though the winters are cold in Lewisburg, the Saperavi vines have thrived.
Back at the tasting room, adjacent to the vineyards, we tasted the only Saperavi vintage to date. The 2013 Saperavi was a translucent dark ruby color with a pink hue. We learned that many wine tasters comment about the darkness of color of the wine. The aroma had dark fruit notes. The taste reminded me of blackberries, black cherry and leather. This wine offered bold tannins and a long fruity aftertaste.
Are American wine enthusiasts ready for Saperavi? In an email interview, Chuck wrote, "We have released only one vintage so far. It is our most expensive wine and it sold out in a few months. It went over exceptionally well with full bodied red wine drinkers. I knew we were on to something when we served it on tap at a Bucknell University Board of Directors meeting. This was a sophisticated group of wine drinkers and it was universally loved. We have one bottle in the tasting room displaying the gold medal from the Finger Lakes International Wine Competition and someone offered to buy it for $60."
Wine enthusiasts that like bold red wines will have no problem embracing wines made with Saperavi grapes. I have tasted many Saperavi wines made in European style and in the traditional qvevri style. Several of these can rival Cabernet Sauvignon. Cab drinkers should search out wines made with Saperavi and see if they enjoy this variety from Georgia.
To add this Search Box to your website, click here. Many designs are available.