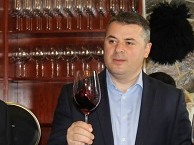 12.08.2015.
Before Georgian wine growers start picking grapes from their vineyards for the summer 2015 harvest, the Government is working on ways to support grape growers and the industry.
The industry is under pressure, primarily because of the tense economic situation in the region and changes to the wine export-import balance therefore the demand of Georgian wine in foreign markets is unknown.
On a positive note Georgia is expected to enjoy a 30 percent larger harvest this year compared to last year however demand for grapes has reduced.
Georgia's agriculture minister Otar Danelia said this challenge forced the government to subsidise several different grape varieties to better support wine-makers.
This year the government will not subsidise the wine companies but only grape growers themsevles.
The government will pay 0.35 GEL to a farmer per kilogram of Rkatsiteli and Kakhuri Mtsvane (types of white grapes sold to factories) and 0.15 GEL for Saperavi (red grapes).
"We have not planned to subsidy this year's
rtveli
[vintage] however the current unstable economic environment in the region encouraged us to subsidise
rtveli
2015. We think the sector still needs our help though we do not want to interfere in the price formation part," Danelia said.
He said there was less demand on grapes this year and as a result, producers might not want to buy the whole grape harvest.
"In this case the government will purchase the excess grapes which are not bought by producers so the whole harvest will be utilised," explained Danelia.
The 2015 wine harvest is expected to begin at the end of August in Georgia's winemaking Kakheti, Imereti and Racha regions and this year's yield is larger than before.
Yesterday Danelia and government representatives met about 60 Georgian winemakers to discuss and establish ways the sides could better collaborate to support the industry and those in it.
Subsidising the cost of grapes was method of action but there were other ways the Government planned to support the wine sector. Recently the government installed anti-hail devices which reduced damaged caused by 32 hail storms this year. Other action was implementation of preferential agriculture credit and agriculture insurance.
Last year Georgian grape growers enjoyed a bumper harvest; farmers earned 170 million GEL by selling 120,000 tonnes of grapes in 2014. Last year the state subsidy for winemakers decreased from 25 million GEL to 12 million GEL.