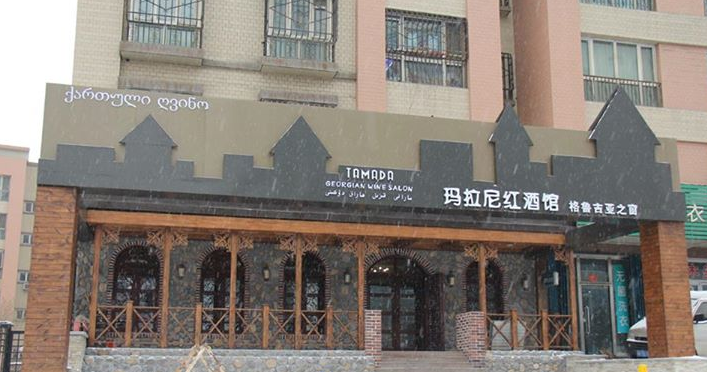 05.08.2015. Three Georgian wine centers have opened in China's Xinjiang province to increase popularity of Georgian wine and raise awareness of the country among Chinese consumers.
One of the largest importers of Georgian wine to China, Xinjiang Beifangjianda Trade Co, was responsible for opening the Georgian wine centres, named the Georgian Wine Culture Exhibition Hall, the Georgian Wine Salon and the Georgian Wine Club.
The Georgian Wine Culture Exhibition Hall opened in the Chinese city of Khorgos that lies near the border with Kazakhstan. The 400 sq. m. exhibition hall is located in the Chinese-Kazakhstan International shopping centre. Historical and cultural patterns of Georgian wine, tastings and presentation materials are displayed in the Georgian Wine Culture Exhibition Hall.
Khorgos is located on the China-Kazakhstan border and was announced as a free economic zone. Statistics showed in January-March 2015 about 600,000 people visited the shopping centre, meaning the Georgian Wine Culture Exhibition Hall could be enjoyed by up to 5,000 visitors a day.
At the Georgian Wine Salon, which also opened in Khorgos, Chinese customers can get acquainted with wine and several other Georgian products; honey, tea, natural water,
churchkhela
(a traditional Georgian snack made from nuts and grape juice), jam and much more.
Meanwhile, last month two separate entities promoting Georgia and its wine opened in China. The Georgian wine promotional centre opened in capital Beijing's Nutrition and Alcohol Research Institute, while a winemaking house opened in China's Zhagang province.
By the end of the year there were plans for another Georgian wine facility to open in the main street of Urumqi in China's Xinjiang province.
In recent times Georgia has worked hard to diversify its wine import markets and this was evident in the Georgian National Wine Agency's latest data. Export of Georgian wine had increased to "strategically important markets" like China, Eastern European countries and Canada, said the Agency.
From January to April 2015, China experienced an 87 percent increase in its import of Georgian wine, claimed the Agency. Additionally, exports of Georgian wine increased by nine percent to Japan so far this year.
From January to April 2015, Georgia exported 7,978,749 bottles of wine (0.75 litre), valued at $23 million USD to 26 countries across the world.
To add this Search Box to your website, click here. Many designs are available.