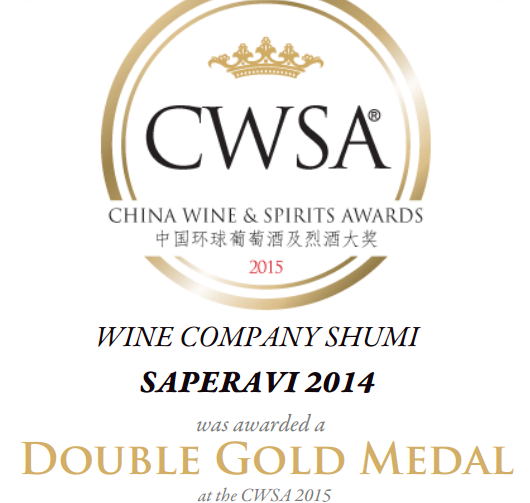 27.08.2015 (Hvino News). Three Georgian wines have won prizes at China Wine & Spirits Awards (CWSA) 2015. All the winning wines are from one Georgian producer - Shumi Wine Company.
The China Wine & Spirits Awards, based in Hong Kong, is one of the biggest and most prestigious wine and spirits competition in China.
The Georgian prize-winners are:
Last February Shumi company has already won 3 more medals at CWSA's 2015 "Best Value" Competition, together with several other Georgian producers. See more details
here
.
"Chinese consumers are thirsty for Georgian wine", - reads a recent news release by China Wine & Spirits Awards, which is covering the participation of Georgian wines in CWSA. "The Agricultural Ministry of Georgia has unveiled a special promotional centre and winemaking house at Beijing's Nutrition and Alcohol Research Institute to celebrate the increasing Chinese interest in Georgian wine. ... According to ministry data, wine represents 93% of Georgia's agricultural exports, with around one million litres going to China in recent years. Between January and April of 2015 alone, Georgian wine exports to China skyrocketed by 87%"
According to Georgian Agricultural Minister Otar Danelia, as quoted by CWSA, "We are glad to see demand of Georgian wine is increasing in China."
To add this Search Box to your website, click here. Many designs are available.