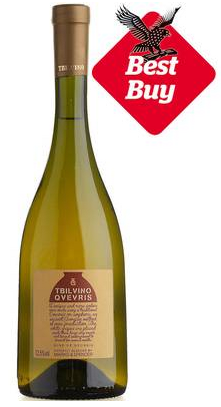 02.08.2015 (Hvino News). The
Independent
- one of Britain's leading newspapers - has recently published a review of "orange wines" available in Britain, consisting of 13 wines from various countries. Orange wines, named for their colour rather than content, are white wines made using the same methods as red. The skins of the grapes are left on.
The article is listing two Georgian orange wines, including Tbilvino Qvevris 2011 (at first position in rating, marked as "Best Buy") and Ramaz Nikoladze Tsolikouri 2013 (at 10th place out of 13). The Tbilvino's Georgian orange wine is available at Marks and Spencer supermarkets chain for 9 pounds (the article notes that the online stock of this wine is already sold out), while Nikoladze's Tsolikouri is available from a specialized shop for 21 pounds.
Other wines listed by
Independent
includes Cos Pithos Bianco 2012 (a Sicilian wine), Serragghia Bianco Zibibbo (an Italian wine), Weingut Sepp & Maria Muster Erde 2012 (an Austrian wine) and others.
Independent's
"verdict": "For those who want an entrée without paying the full price of admission, the best buy is the reliable M&S Tbilvino Qvevris. Once you've acquired the taste, sample the glorious Foradori Fontanasanta for a more complex and richer glassful or Castagna Harlequin from Australia for an intense blast of spicy Down Under sunshine".
To add this Search Box to your website, click here. Many designs are available.