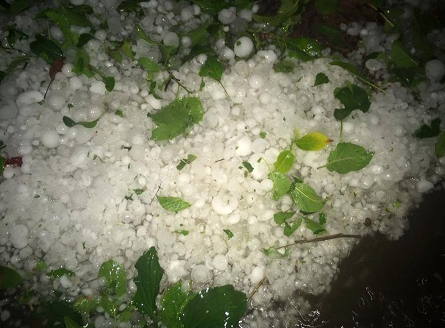 22.08.2015 (Hvino News). Heavy rain and hailstorm on 20th of August has damaged farmlands and houses in some parts of eastern region of Kakheti. According to preliminary data of the Ministry of Agriculture, the hail destroyed about two thousand hectares of vineyards, most of which, however, were insured.
Basements of houses in some of the villages of Lagodekhi municipality were flooded and a landslide in Akhameta municipality damaged a road, according to the Interior Ministry's emergency service, which had to send units from Tbilisi to help with response.
According to preliminary estimation the hailstorm damaged about 1,500-2,000 hectares of vineyard, said agriculture Minister Otar Danelia, who is visiting Kakheti region. Precise number of affected households and farmlands has yet to be determined.
Asked what would be the share of the state support in case of uninsured vineyards, Mr. Danelia advised everyone to insure vineyards. "It is important to remember what has been done in this direction. As you know, we are subsidizing insurance, the state pays a significant portion of the insurance. Regarding support to those who do not have insurance - this is a very difficult subject, because we may discredit those who are insured. That we really can not do. We can think of some other direction, but I cannot say anything concrete, "- said Otar Danelia.
Mr. Danelia said that although anti-hail guns, produced by the state-owned Delta military industrial complex, were deployed, and 50 anti-hail rockets - each worth of EUR 300 - were shot. This helped to "partially prevent" hailstorm only, because the hail had already formed in the clouds when it moved over Georgian territory. Delta said that it fired over 70 anti-hail rockets on August 19-20, which prevented hailstorm in Sagarejo, Gurjaani, Lagodekhi, Akhmeta and Telavi.
To add this Search Box to your website, click here. Many designs are available.