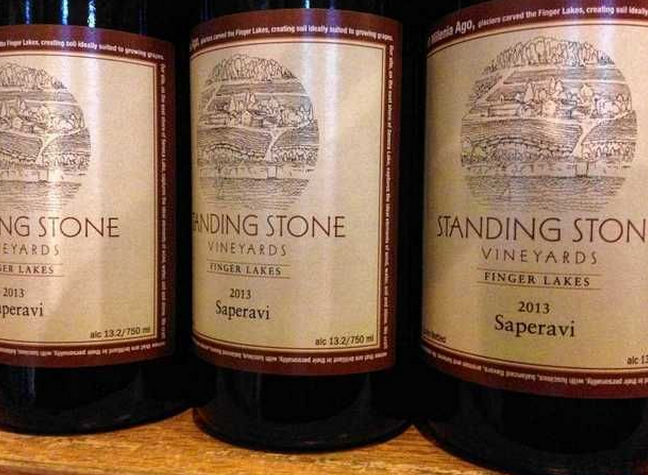 by Terry Sullivan
24.08.2015. Our search for Georgian winemaking techniques and Georgian grape varieties continued during and after the Wine Bloggers Conference in Corning, New York. During the conference, there was a speed tasting of red and rosé wines from the Finger Lakes. One of the wineries pouring wines poured a Saperavi. Standing Stone Vineyards poured their 2013 Saperavi and it was well received at our table. The speed tasting consisted of a winemaker or winery staff pouring and talking about a wine. The bloggers were paying attention, tasting the wine and tweeting about it in five minutes. Then the producer went to the next table. We tasted, learned about and tweeted about ten wines in 50 minutes.
Kathy and I spent a few days visiting wineries along Seneca, Keuka and Cayuga Lakes after the conference. One of our winery stops was Standing Stone Vineyards along the east side of Seneca Lake where we trekked to the rows of twenty-year old Saperavi. Standing Stone Vineyards has left its mark on this Georgian grape planted in the United States. Prior to 2014, the name "Saperavi" could not be placed on a bottle label as the name of a wine made from that grape. The TTB did not recognize the name. In December 2013, Standing Stone Vineyards filed a petition and the name was approved by the government in January 2014. Now winemakers that make wine with Saperavi grapes may call it Saperavi. Prior to 2014, the wine would have a proprietary name. For example McGregor Vineyard along Keuka Lake uses Saperavi in a blend it calls "Black Russian Red."
While at Standing Stone Vineyards we tasted two wines made with Saperavi. The 2014 Saperavi had the typical black inky color and black fruits profile. The 2013 Saperavi Reserve was made with the 20 year-old Saperavi grapes. We located the two rows of these two decades old vines and noticed that veraison had already begun. Many of the grapes were already developing the dark-blueish purple to black color. The twenty-year old vines attest to the steadfastness of these vines in this region of New York.
Later, while visiting a neighboring winery, we ran into Saperavi again. Hazlitt 1852 is the 2015 New York State Fair Winery of the Year. Winemaker, Michael Reidy took us to the barrel room where we tasted a Saperavi. Typical of Saperavi wines, it had the dark purple to black color. Also typical were the dark fruits. The wine in barrel will age for awhile before bottling, and wine consumers will enjoy another example of this wonderful Georgian grape that is finding a home in a few American vineyards.
To add this Search Box to your website, click here. Many designs are available.