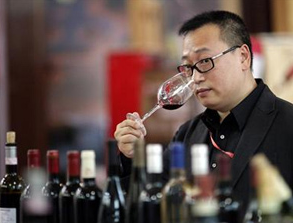 by Ellen Wallace
28.08.2015. Sometimes you learn about wine in unexpected places and ways. I was in Beijing in mid-June and found myself invited to a Georgian wine tasting at a coffee bar, High Altitude. To be honest, I knew nothing about Georgian wine except that the country has been making it since forever, and that it is famous for a traditional process, making wine in underground egg-shaped vessels, amphorae called
qvevri
.
I was invited by a young Chinese friend, WX, with whom I had been discussing Swiss wine. I wanted to see how a group of Chinese professionals in their 20s and 30s reacted to a wine tasting, given all the discussions I've had with wine producers about whether the Chinese market is really ready for wine – not the millionaires lining expensive cellars with big name Bordeaux, but your average young consumer.
China is the new kid on the block for wine, a drink that is not traditionally part of the culture. And yet, ironically, the oldest evidence of a "grape-based fermented drink" may have been found in northern China. Georgia has the most credible claim to have made wine longer than anywhere else in the world.
Plus, who doesn't want to try a totally new-to-me kind of wine?
The owner of the popular bistro, James Jiang, is Chinese, fluent in Russian from several years of working there and in Georgia, during the Soviet era and after. He likes wine as well as coffee, and, a successful entrepreneur, he's savvy about the city's new middle-class young population, some of whom do indeed want to understand wine.
Georgian wines's rep in China, Maia Tskhitishvili, was invited to present sample wines from the country that boasts it has 525 grape varieties and whose term "
ghvino
" may be an ancestor to our Latin-based words for wine.
Like so many wine-tasting events, it was off to a good start, with customers listening carefully to Maia's presentation while wine was offered around. Small tasting-size servings were poured with an explanation that there would be another half dozen types of wine, so people should go easy. I had to look for a spare glass to spit my wine into, and I showed Wenxian and a couple other people how to do it – yes, they were aware people do this when we taste, but they hadn't seen it done.
Georgian Wines has a good slide show, which I watched in gratitude for the English texts that alternated with Chinese. I learned that the first
qvevri
were discovered in the Kvemo Kartli region, dating back to the 5th or 6th century BC, and that the country numbers 18 wine "micro zones", a number that seems to correspond to the AOCs (appellations).
The names of the most common grape varieties are a mouthful for anyone unused to the language, but the photos of the beautiful vineyards on hillsides were easy to understand.
Once the wine was flowing the buzz got louder and the number of flushed faces grew; the slide show lost some of its audience towards the end. But the wine was sampled and puzzled over or appreciated, just as with any wine tasting. The dancing and music began spontaneously and the wine flowed faster and the cell phone cameras were put to work.
The consensus of WX and a couple other young Chinese people is that they "don't really like white wine", which is uncommon in China and tastes strange to them. My sense is that anyone who wants to sell white wine in China needs to do a lot of food and wine pairing, and offer tasting sessions with both. That's something you can't easily do in a bar setting, although the food James Jiang served with the wine was good.
The wines
The sparkling wine was served first: Bagrationi Classic Brut, notes of melon and citrus, clean and crisp, a pleasing wine – the company was the main producer of sparkling wines in the Soviet Union and its long experience coupled with updated facilities and new markets probably accounts for its continuing popularity.
Chateau Mukhrani's classic Goruli Mtsvane is a greenish-gold dry white that I very much enjoyed. Delicate but very present fruit, good acidity, 12.5% alcohol so not too hot. It was followed by a semi-sweet white that I didn't particularly care for, but it was so beautiful to look at that that I forgot to note the name.
The reds were interesting and of mixed quality, which is useful when you're tasting a grape variety for the same time. There were three Saperavi dry reds, one from 2007 which I found a bit rough. The 2013 from old vines from the Teleda winery, which was elegant and smooth – my favourite of the lot.
These were followed by the one the Chinese crowd favoured, an old Georgian classic, clearly dear to the folks back home, but to me it was like blackberry syrup, far too sweet for my taste. Kindzmarauli by the Tamada winery is made from mountainside Saperavi grapes, but its sugar level is 3-5% and you feel it; it needs a sweet, fruity dessert or strong cheese. I might like to try one by another winery, to compare.
To end the evening, a fortified wine, the delightfully named
Chacha
. The name is a term that can be applied to any strong alcohol made from fruit, but the Georgian traditional brandy with this name is made from grape pomace, the solid remains left after wine is made. Smooth, rich and very easy to drink, and, like an excellent vodka, its potency can surprise you.
Here's a toast to Georgian wines, a great discovery,
Gaumarjos
!
To add this Search Box to your website, click here. Many designs are available.