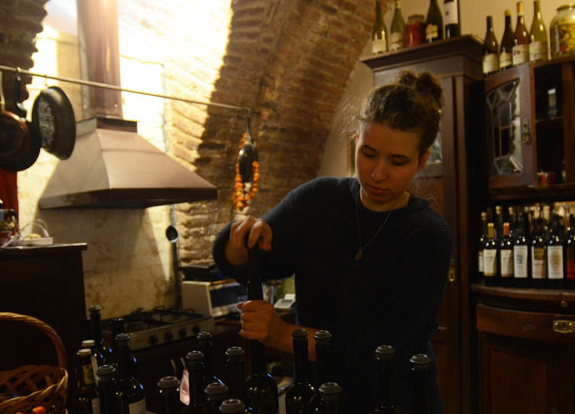 Photo: Molly Corso
by Paul Rimple
09.04.2015. Ènek poured a rosy colored splash of wine into our glasses, avidly explaining how this particular Aladasturi grape vine was meticulously cultivated in its native west Georgia. In a tasting ritual uncommon in Georgia, we swirled it, sniffed it and savored the flavor as it caressed our tongues. Here in the "cradle of wine," the land where viticulture is believed to have originated 8,000 years ago, wine is customarily poured into a water glass and "tasted" in one long drag, until drained. But in this cozy cellar in the heart of Tbilisi's historic Sololaki neighborhood, seven winemakers have come together to offer an alternative convention to winemaking and consumption. They call it Vino Underground, but we call it wine heaven.
"This wine is made by an 80-year-old man in Imereti," Ènek said. "He's only bottled 500."
Vino Underground offers about 100 family-produced Georgian wines, most all made much like they have been for thousands of years; in ceramic qvevris, tear-shaped vessels buried in the ground and found in nearly every basement in east Georgia's wine region of Kakheti. But what sets this wine apart from what is normally consumed in the country is the acute care given to the vine. Vino Underground's co-op think of themselves as grape cultivators rather than winemakers, following an intrinsic philosophy of "listening to the vines" to help them develop a resilient immune system naturally, instead of fertilizing them with chemicals. By the time the grapes get to the cellar, nothing needs to be added to help the fermentation process. You can taste the personal touch that goes into each bottle.
That night we were sampling whites, working our way to Georgia's distinctive tannin-infused, amber colored wine, a result of the inclusion of skins, seeds and stems into the fermentation process. After sampling a straw-colored, citrusy Kisi, we settled on a bottle of Rkatsiteli, which is Georgia's most popular white.
Ènek Peterson walked us through several wines, impressing us with a profound knowledge of the background of each bottle, all with an enthusiasm she couldn't hide. The 21-year-old Boston native eloped with Georgia when she failed to board her flight back home seven months ago, after coming here to learn Georgian folk singing. Already a fluent Georgian speaker, she is fast becoming an expert on natural local wines, and this Rkatsiteli she selected for us was divine.
"This wine comes from Zaza Darsavelidze. He's a soldier and security guard by profession but inherited the business from his father," Ènek explained. "Zaza takes his four year-old son with him to the
marani
" – wine cellar – "and vineyards because he feels it's so important for this tradition to be carried on."
Vino Underground isn't the kind of place you visit if you're hungry, which is unheard of in this Black Sea nation where wine and supper are as inseparable as salt is from the sea. But they do offer savory treats well suited to partnering with their wide selection of wines, which also includes European and Kiwi vintages. We skipped the platter of local cheeses, preferring to try that evening's specials of fried Sulguni cheese with sorrel and Ekala with walnuts. Sulguni is best described as a kind of mozzarella, while Ekala is a spinach-like plant native to west Georgia. While both are simply outstanding, at Vino Underground it is the wine that really shines.
To add this Search Box to your website, click here. Many designs are available