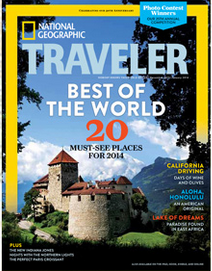 13.04.2015.
The National Geographic
published list of Best Tours in Europe in its
Traveler Magazine'
s 2015 Tours of a Lifetime. Along with Italy, France, Croatia, Switzerland, Scotland, and others, the list also includes Georgia - particularly Alaverdi, Kakheti region.
"Monks at the ancient Alaverdi Monastery still ferment wine the way their order has for a millennium, in earthenware vessels buried in the ground. Taste the fruits of their labor on a culinary odyssey led by Max Johnson, the travel outfitter's founder, whose passion for this unsung corner of the planet is contagious", - the article in
The National Geographic
reads
.
Georgian Economy minister, Giorgi Kvirikashvili discussed this news with the media. "I want to share some very good news with you... The decision to include Georgia into the top tourism destinations has already been made by the
National Geographic Traveler
and in my opinion this will help Georgia to develop its tourism industry and to improve the country's image among world travellers."
National Geographic Traveler
is a magazine that launched in 1984 by the National Geographic Society in the United States. It is one of the most popular travel media in the world and is published in 20 countries in ten languages.
Georgia had been in focus within the magazine many times, with photographers capturing incredible images of Georgia's scenery and authors describing life in the quaint villages and bustling towns and cities. "Blessed Beast" - the picture from Georgia's mountain region Svaneti - was named by the
National Geographic
the Photo of the Day on September 23, 2014.
Pulitzer Prize-winning journalist and National Geographic Fellow Paul Salopek made an unexpected stop in Georgia while he retraces on foot the global migration of our ancestors in a 21,000-mile, seven-year odyssey that begins in Ethiopia and ends in Tierra del Fuego. This was how Georgia became part of his global project "Out of Eden Walk" (see:
"National Geographic": Ghost of the Vine
).
Source
(edited)
To add this Search Box to your website, click here. Many designs are available.