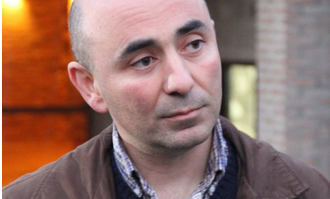 by Keto Ninidze
05.04.2015. George (Gogi) Dakishvili has been working in the field of viticulture and winemaking for about twenty years. Today he is a chief winemaker at Schuchmann Wines Georgia.
He is a father of three children and when I ask him about the winemaking plans of their family he, very calmly and confidently replies that in spite of his great desire to bring up future winemakers, he never involved in the decisions of his children.
However, it seems that, Gogi's personal example and liberal attitude worked well as his elder son, Temur Dakishvili connected his life - education and work - to the wine. He created an interesting brand "Vita Vinea".
When talking about family traditions, except Gogi I consider his son, Temur as an independent winemaker and Gogi's wife Ilona Dakishvili. Their family is based upon the continuing traditions of close and distant ancestors.
Gogi's father, Temur Dakishvili was a Christian Kist [a Chechen subethnos in Georgia -
HN
] by origin from the village Jokolo. He also was a winemaker and even though he could not see his son in winemaking field, he had a great role in developing his visions from a very young age. Grandfather, Simon Dakishvili, Jokolo church priest, was shot during the red repressions. Grandfather from mother's side a winegrower and winemaker, Archil Chuadze lived in Akhmeta. In the 30-es of 20th century he had a vineyard and made wine in the oldest cellar where he had clay kvevris of 18th century. Gogi still vividly remembers all the vintages in his childhood as great celebrations. First touch point with grapes and wine was in the age of 5-6, when his grandfather allowed him to squeeze the grapes in
satsnakheli
. Then he took part in the vintage and new wine replacement process, as the normal, full-fledged member. The aroma and flavors of these days deeply and thoroughly settled in his memory.
Gogi is the graduate of faculty of enology at Lomonosov food industry Institute of Odessa, Ukraine. There he got great education in enology with professor Rusakov, who was the apprentice of a well-known soviet wine specialist Gerasimov. Gogi remembers Rusakov's wine tasting sessions as the artistic process, the master class and a show on that attended not only enologists, but other specialty students as well. Rusakov was a crazy wine taster, who was able to identify amazing details in wine aromas, for example, what stages had the grape gone through in the vineyard, when it had the rain and such magic.
After the graduation, Gogi continued as intense work as before, in childhood. He studied chemistry and biology with particular enthusiasm to become a winemaker. He also purposely began working as a worker in Teliani state factory in 1995. Soon he was promoted to a brigade-leader worker, and at the end of the year, he became a winemaker technologist. During this period, his friends founded the company Teliani Valley, where he was invited and worked in 1997-2009 years.
In 2000, in the University of California, Davis, the United States, he passed a thorough training, where he was introduced to the latest trends in modern winemaking. This is the stage in Georgia, when the industries in different sectors, including wine, try to creep out from the 90-s crisis and adapt to the modern industry.
Teliani, Teliani Valley, Tsinandali, Mildiani, Vinoterra are the companies where Gogi Dakishvili worked in different years. He has been working as a chief wine-maker in Schuchmann Wines Georgia since its establishment in 2008 where he carefully and cautiously put his great experience accumulated from travel and knowledge gained from approaching world wine traditions into practice. However, when I ask about his attitude towards the modern enologistic approaches, he says, that for Georgian wine making field everything is well-forgotten old. This is his idea concerning wine production technology. Furthermore, of course, there are black holes, for example, in marketing, which needs more development by drawing nearer to the international practices with no direct copying but considering local context.
And now, we came up to the most important issue, the kvevri wine, that Gogi looks at as an elite product – wine, oriented at a narrow, high class segment, which will never recognize itself equal to the supermarket shop windows. Kvevri wine with neither quantitative nor qualitative features is to mass taste. Winemaker is happy with the fact that there formed a circle of Kvevri fans and they impatiently wait new vintage wines in international events every year, express their opinion about wines, take notes about the peculiarities of taste; in short, they observe the process.
Gogi's task is to respond to the demand of different tastes at home and abroad, thus creating a diverse style from bodied and intense kvevri wine to European light whites. However, his great passion, as mentioned above, is kvevri. He is the only winemaker in Georgia, who risked and gave a particular scale to kvevri production. At present, he produces about 150 000 liters of Rkatsiteli, Mtsvane, Kisi and Saperavi wines.
The focus for Gogi Dakishvili is the basic principle that the wine production starts in the vineyard. According to him, grapes give the possibility to have less interference in wine production process. Today, all developed countries wine makers have the position that the quality of wine depends by 80% on the grapes. That is why he thinks it is necessary that each manufacturer possess its own supply of raw materials, be the observer of grape ripening process and be a decision-maker during the harvest. He never uses herbicides in the vineyard and tries to avoid systemic remedies. Gogi Dakishvili is not the winemaker, the instructor, who does not go beyond the walls of the enterprise. He spends considerable time in vineyard, monitors the development of the vine, and directly supervises the activities of the workers, which, believe me, needs great willpower in case of such scale production.
George lives in Telavi with her family and whenever free works in the vineyard with his son, Temur. His younger son David is involved in the activities of Father and elder brother and does every task with joy- help in cellar and in vineyard and wash little kvevris.
This is indeed an interesting portrait, where the tradition and new practices, natural aesthetics and scientific order meet one another. In this case, the wine is an honorable mission, extension of traditions and a part of the spiritual ecology.
Source
© Georgian Wine Club, Wine Information Center
To add this Search Box to your website, click here. Many designs are available.