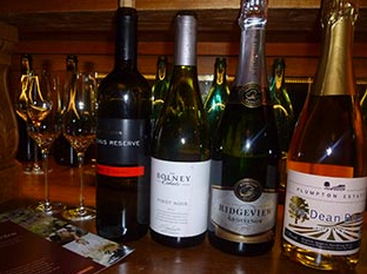 10.04.2015. At a wine-tasting event organized by the British-Georgian Chamber of Commerce (BGCC) in the newly opened, intimately sophisticated Vinotel, a select (and very honoured!) group of mixed nationalities and professions was invited to taste a selection of four different English wines (English, not British, as I was quick to discover).
Chris Foss was our host- a man of British-French origin, a microbiologist who fell in love with the wine-making process at a young age and spent many years in France (particularly Bordeaux, the home of his mother) training, before moving to England some 25 years ago to work at the Plumpton College in East Sussex in the south-east of England and to take on the role Chairman of the South East Vineyards Association (the largest group of vine growers in the south-east).
Aside from two Brits (myself included) who had never before tasted the wine of their native England, Mr Foss' guests included Chris Schlueter, the Head of BP in Georgia and his wife; Giorgi Tevzadze, Adviser to the Chairman of the National Wine Agency and an active participant in the wine sector since 1986; Meko Kipiani of the family producing Kvanchara; a representative of Deloitte who, with funding from USAID, has recently been arranging wine tasting courses for certification; a local winemaker; a lecturing sommelier; and other wine experts and wine lovers.
Before we even touched our lips to the rim of the first glass (or, in the case of those more professional at this tasting lark, stuck our noses in), Chris clarified the difference between 'British wine' and 'English wine'. Britain (he told us) has had the right to import grapes and grape concentrate from almost anywhere around the world, ferment it in Britain and call it British wine. It is cheap and not very tasty (he said). English wine, however, is produced exclusively from vines grown in English soil. It is rare, worthy of prizes and not so abundant that the average Joe can often afford a bottle.
The UK (for here we can also include Wales and even Scotland in the wine-making process) has a cool climate for grape-growing; the conditions are more challenging, and this undoubtedly affects the style of the wines produced. "In wine terms, we are the 'New World' of Europe," Chris said with a smile as he swirled the first sample around his glass. "They did grow vines in the England of Roman times but the tradition was not kept and so now we are trying to develop our own new styles."
Our first sample was the Chapel Down 2013 Bacchus Reserve, made from a variety of Germanic origin grown on vineyards in Essex, Kent and East Sussex, and annual winner, so we are told, of many medals. The producers (the winemaker and vineyard manager being graduates from Plumpton College) manage 45 hectares of vines, but add to their own production by buying grapes from all over the south-east of England. I personally found the flavor reminiscent of my grandmother's home-made mint sauce- an aromatic and fresh flavor, which the experts, with me in the cosy Vinotel wine cellar, said might be difficult to match with food. In local retailers it would cost 15 to 20 GBP, in restaurants close to 60 GBP.
We got to try the Bolney Estate 2013 Pinot Noir next- the most popular variety grapes in England, though usually destined for sparkling wine. In this case it had been used to create a still red, rather light in colour. The Bolney Estate winery, founded in 1972 (and so the sixth oldest vineyard in the south-east), is run by three women. The vineyard soil itself, we were told, is of the greensand variety, a clay surface on a porous sandstone base, which is very good for Pinot noir vines. Greensand is one of three major soil types in the south-east of England, the others being chalk (of the same geological type as that in the Champagne region) and clay. The grapes from the wine that we were now tasting had been cold-soaked for 48 hours, crushed, and fermented at a low 23 degrees Celcius (in order, Chris informed us, to bring out more of the fruit flavor and less of the tannin). Not many such wines are produced in the UK, so we were told. The Bolney Estate is one of the best and, in a shop, would set you back at least 30 GBP.
An interesting fact got thrown in as Chris poured our third taster of the evening: almost all grape harvests in the UK are handpicked, with only one vineyard equipped with a picking machine. With exports heating up (English wine is now increasingly desired in Scandinavia, Japan, the US and Hong Kong, and is successfully exposited at trade fairs such as ProWein), Chris explained that the number of vines recently planted will exceed demand on the home market, meaning a lot of extra hands will be needed for all that picking!
Our third wine- the Ridgeview 2011 Grosvenor has won Top Sparking Wine in the World, twice. The vineyard is run by ex-Plumpton students and produces half a million bottles per year, though recent expansion will soon put that number up to a million. It is a pure blanc-de-blanc Chardonnay made following strict Champagne procedures, using Champagne technology. Chris described the 2011 year as problematic due to the summer rains but positive in terms of the September yield of small ripe berries which gave the wine the flavor of "…cream, brioche, apple crumble, sherbet…with a lengthy finish and good potential for some years in the bottle," according to Jancis Robinson OBE, world-renowned wine judge and TV presenter (and wine-cellar adviser to the Queen herself!)
"The first sample of sparkling wine was aromatic but the overwhelming fruit characteristics I expected were lacking," Giorgi Tevzadze told me later. "It was an interesting vintage…four years old, but a little oxidized; not my style."
Chris explained that this is as close to original Champagne as you can get: "…elegant, light, a bit of complexity, a creaminess ready from the second fermentation." He pointed out that, what with climate change warming up the French Champagne region, in his opinion the flavor of their grapes is getting a little too strong in terms of fruitiness and honey. Which leads me to think that the original French flavour could soon become the sole property of the British…
"I found the second sparkling wine fresher," Tevzadze said (good for Chris as it is one of his own!) "…expressing a citrus character and the typical strawberry tones of a Pinot noir."
This was Plumpton Estate's 2010 The Dean Blush, grown on one third of ten hectares of beautiful south-facing slopes, tended by college students and made up of 54 percent Pinot noir, 33 percent Chardonnay and 13 percent Pinot Meunier. Of a beautiful golden pink colour, it spent a lengthy 40 months in bottle fermentation and costs 25 GBP when bought at Waitrose supermarkets.
Overall, the guests (myself included) were left with the sense that they had tasted something rare and special; perhaps not suited to every palate, but nonetheless to be treasured and respected, especially when it has been brought 2,500 miles to the cradle of wine itself.
Plumpton College provides a wide range of land-based courses, both in further and higher education, and is England's centre of excellence in training, education and research in wine business and production.
The BGCC has signed a partnership with Plumpton, the Georgian National Wine Agency and the Georgian Ministry of Agriculture, in order to run short executive training courses for Georgians on the themes of marketing, branding and trading wine. "It is very important to know how to sell our wine, how to write the labels to EU standards, and more," said Mako Abashidze, founder and director of the BGCC. "Plumpton is an amazing site, offering all the international standards. We look forward to working with them."
To add this Search Box to your website, click here. Many designs are available.