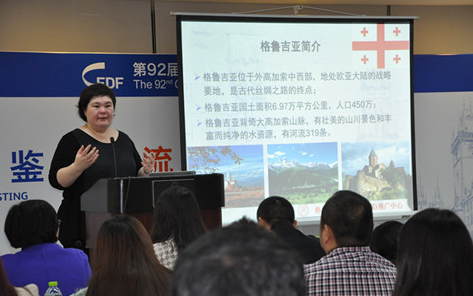 27.03.2015 (Hvino News). In the course China Food & Drink Fair in Chengdu, China (March 26-28) several Georgian wine master classes were conducted by Chinese wine experts. One of the master classes was given by Fongyee Walker, managing director of Dragon Phoenix Wine Consulting.
About 50 attendees gathered at the Georgian wine master class by Fongyee Walker, who were representatives from trade and media, as well as consumers. It was the first time for most of them to taste Georgian wine and they appreciated the opportunity to learn about this "old but new" wine region.
Fongyee Walker is associate of the Institute of Wines & Spirits (AIWS), and mainland China's most qualified wine educator. A popular wine presenter, she judges for leading Chinese magazines, Chinese wine challenges and serves as an international judge. Fongyee writes for several Chinese and international wine publications and is co-author of
The Cambridge University Guide to Blind Wine Tasting.
Demand of Georgian wine is on the rise in China, which is the fourth largest importer of Georgian wine in February 2015. A total of 217,000 bottles of Georgian wine was exported to China in the first two months of the year, which was 64 percent more compared to the same period of 2014. A total of 10 Georgian companies have participated in the China Food & Drink Fair in Chengdu.
© Hvino News
To add this Search Box to your website, click here. Many designs are available.