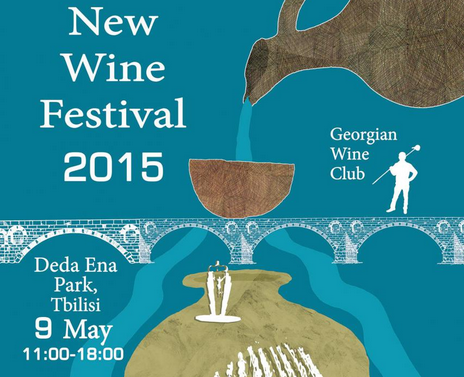 29.04.2015. The sweet smell of Georgian wine will soon spread through the air of Georgia's capital city Tbilisi.
Dedaena Park in central Tbilisi has been named as the new venue for the sixth annual New Wine Festival 2015, which will showcase more than 70 high quality Georgian wines from all around the country.
In previous years the festival was held at the Ethnographic Museum near Turtle Lake.
Today organisers revealed initial plans of the event and said almost all of Georgia's largest wine companies, some smaller cellars and family wine producers from different regions of Georgia would participate in this year's festival.
The Georgian Wine Club, which is organising the event, said the New Wine Festival 2015 would offer guests the chance to taste a "full array of excellent wines" from large and small wine producers all over the country.
Wines produced from rare varieties of grapes from the 2014 harvest will also be available to sample, said the Wine Club.
In addition, guests will be able to enjoy tasty Georgian mtsvadi (BBQ meat) and tonis puri (bread) while listening to live performances of folk music, jazz and more.
Georgia's ancient winemaking traditions using a clay jar called qvevri will also be displayed.
Organisers said this year's event would be particularly special as it will distinguish the country's great variety of qvevri wines. This traditional method of making Georgian wine was approved by UNESCO to be included in its Intangible Cultural Heritage list.
The Wine Club annually organised the event, which is attended each year by hundreds of guests from all around Georgia and further afield.
Entrance to the New Wine Festival 2015 is free, so everyone over the age of 18 is invited to attend the event and sample some of Georgia's great wines. Younger attendees are also welcome to attend the festive outdoor event.
To add this Search Box to your website, click here. Many designs are available.