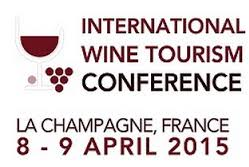 02.04.2015. The 7th International Annual Wine Tourism Conference (IWINETC) will be held in La Champagne region, France, on April 8-9. It will be followed by the workshop with the participation of professionals on April 10. The main direction of IWINETC this year will be professional development, research, branding and marketing, network communication.
The International Annual Wine Tourism Conference, Exhibition & Workshop each spring is the main event in the Wine and Culinary Tourism industry calendar of the world. More than 300 varieties of wine from 45 countries will be presented at a 2-day program that will include around 30 talks, workshops and symposiums.
Georgia had the honor to host the conference in Tbilisi in 2014. The National Wine Agency will be one of the main characters this year at IWINETC La Champagne, as it is the gold sponsor of the event.
Conference speakers from the National Wine Agency of Georgia will be George Samanishvili (presentation title: "Georgia - Cradle of Wine") and a team member of the Living Roots enotouristic project, -John Wurdeman (presentation title: "Sustainable Wine Tourism – strengthening local traditions"). Among conference and workshop participants will be the enologists, eno-tourism researchers, authors of enotouristic projects, wine journalists and writers from the USA, Australia, Croatia, France, China, Argentina, Canada and Great Britain.
Source
© Georgian Wine Club, Wine Information Center
To add this Search Box to your website, click here. Many designs are available.