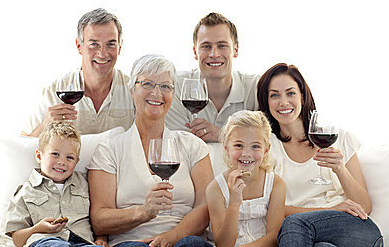 01.04.2015 (Hvino News). It is well-known from several medical research reports that moderate wine consumption has many positive health effects. National Institute on Alcohol Abuse and Alcoholism (NIAAA) reported, that in addition to having fewer heart attacks and strokes, moderate consumers of alcoholic beverages (especially wine) are less likely to suffer strokes, diabetes, arthritis, enlarged prostate, several types of cancers, and even Alzheimer's disease. Now, the new data gathered by Georgian scientists reveals that wine consumers have one more scientifically proved evidence in favour of their drinking habit.
According to the researchers from Georgia's National Public Health Research Institute (NPHRI), the children are more musically-gifted if they are born to families where both parents are regular wine consumers. The team of scientists, consisting of various specialists including children psychologists and nutrition doctors, have conducted multiple testing as well as polls, which have revealed strong relationship between the number of children with artistic talents - especially musical - and the level of wine consumption by both parents.
"We must, however, take this result with caution", - said Dr. Ashram Singh MD in his comment to the Georgia's NPHRI research report published in Britain's oldest medical journal
The Lancet Annals.
"The higher rate of musically-gifted children appears only in families with moderate level of consumption. At levels higher than 1 bottle per day this tendency disappears. We do not advocate wine drinking, and hope that readers will not start believing that tipsy parents are a good thing".
To add this Search Box to your website, click here. Many designs are available.