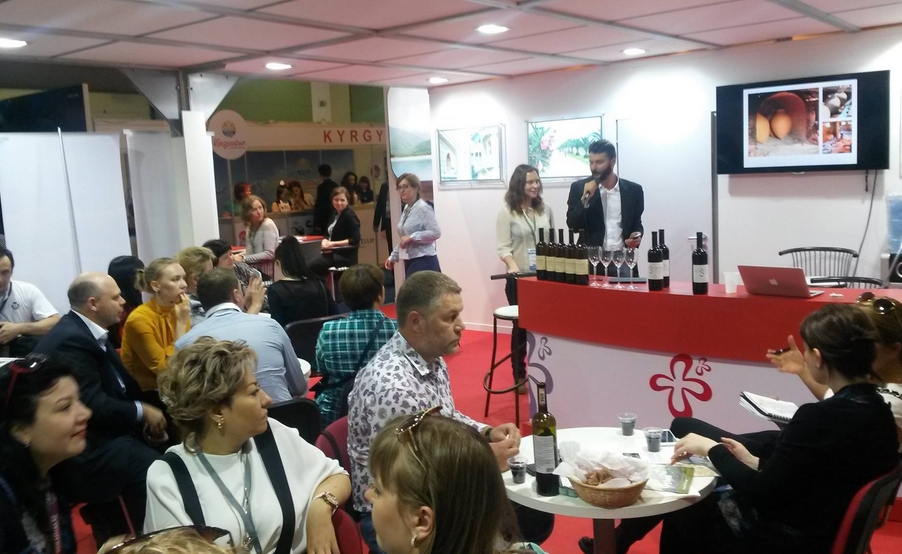 27.04.2015. Georgian Experience presented Otskhanuri Sapere, Krakhuna and Tsolikouri made with traditional method in
qvevris
by Lagvinari during Kazakhstan International Travel Fair in Almaty.
The Georgian stand welcomed visitors interested in the history of traditional Georgian winemaking and, of course, the tasting of natural Qvevri wines. The event was organised by wine tours operator Georgian Experience and supported by Georgian National Tourism Administration.
"The audience was very diverse and curious about new tastes from Georgia as well as wine history itself", - Davit Jishkariani, the host of the event, noted. "We can say our word in wine tourism as here in Georgia wine, culture and history are intermixed, Uplitshikhe is a good example where you can stroll through the streets of 2nd millennium B.C. cave town and see the wines presses cut out in rocks as well as ancient Qvevri's used for fermentation and this will be followed by tasting of wines made by the same traditional method by young and enthusiastic winemakers around. Uplisikhe is just one of quite a few prehistoric wine artifacts not to mention number of others connected with later Christianity all around Georgia.This is the experience hard to find in any other winemaking country."
Brief, but comprehensive review of Georgian winemaking, wine culture and wine tourism spots was followed by tasting of Lagvinari wines. Around 50 lucky guests were comparing Krakhuna, Tsolikouri and Otskhanuri Sapere. These names were completely unknown both for Kazakh audience, as well as for visitors from the other countries.
"I had no idea about these sorts, and also was totally unaware, that winemaking in Georgia was that old," - one of the guests, Ksenia Zhanakova (Kazakhstan) said. - "8000 years is such a number! The presentation was very much fun: Davit gave us many interesting facts in a very entertaining and charming manner. The wines were really tasty. Being no wine specialist, I did like the red one.(Otskhanuri Sapere Redactor's note ) It had a very strong bittersweet aftertaste. Here, in Kazakhstan, we do have some Georgian wines, I even tried some but didn't find them interesting at all… I wish we had a wider choice here! And of course, now I want to come to Georgia to try even more".
The presentation was a part of big Georgian presence at KITF in 2015.
"We had a strong representation this year: 22 companies, and the private sector had demonstrated its wide scope of products, - Daria Kholodilina, marketing coordinator of Georgian National Tourism Administration, seemed very proud. - The fact that our wines gain more and more attention from international audience makes me hope for good perspectives. People who attended today's presentation knew something about the way we share the wine with our guests, some supra traditions and role of tamada, but today they were really curious about the way we produce wine. I want to thank Georgian Experience and personally Davit Jishkariani for organising presentation and tasting".
Such an interest to country's wine history may give real chances to those winemakers, who want to penetrate the neighbour countries where the supply of good Georgian wine is really insufficient.
Maybe it is reasonable to make the exclamation "
Gaumarjos
!" the word of the next years in Kazakhstan?"
Georgian wine heritage should be used both for attracting growing segment of taste driven wine loving travellers as well as to establish long term relations with them through providing unique experience during their visit.
Image of Georgian wines in Kazakhstan fades away together with Soviet inheritance. New world competitors are fast to move to premium wine bars and restaurants all around country targeting young and growing wine drinkers audience, while Georgian wines stay on the shelves waiting for nostalgic driven consumers to remember about them. hence it is crucially important now, to introduce new authentic and quality wines to post soviet markets in order to build new quality image.
I want to thank Lagvinari for their excellent wines. These are the wines which are recognised by wine lovers, wine magazines and restaurateurs around the world are the ones which will bring more and more taste driven visitors to Georgia. Notes Davit Jishkariani member of Georgian Wine club representing Georgian experience at KITF.
Qvevri and traditional wine making method is crucial for Georgia in order to improve the quality and diversity of wines produced as well as to market them in fiercely competitive international markets. Together with the help from Georgian National wine agency, National tourism administration we previously had events in Bordeaux and Berlin promoting Qvevri amongst professionals as well as enthusiasts and will continue to do so. We have a big event coming up during Vinexpo 2015 in Science Agro Bordeaux where we will talk to future winemakers, vineyard management and wine marketing students about the history present and future of Qvevri and benefits of Georgian traditional winemaking method.
Press release
To add this Search Box to your website, click here. Many designs are available.