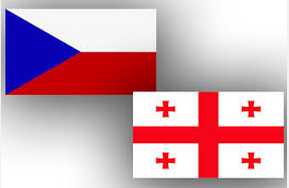 24.04.2015. The Czech Republic has hosted a Georgian wine tasting event. The Georgian wine tasting session was initiated by the Centre for the Promotion of Imports from developing countries (CBI), which is part of the Netherlands' Enterprise Agency and commissioned by the Ministry of Foreign Affairs of the Netherlands.
The Centre was established to support producers and exporters get a foothold in the market in the Netherlands, help business support organisations improve their capabilities and to act as a matchmaker between suppliers and buyers in the Netherlands and around the world. In 1991 its activities were expanded to the European Union.
The event was also supported by Prague Wine Academy and Czech Republic's Sommeliers Association.
Georgia's Ambassador to the Czech Republic Zaal Gogsadze introduced the guests the history of Georgian wine and the unique way in which traditional wine is made using a
qvevri
The guests enjoyed a masterclass of wine tasting, where they sampled a selection of Georgian wine.
To add this Search Box to your website, click here. Many designs are available.