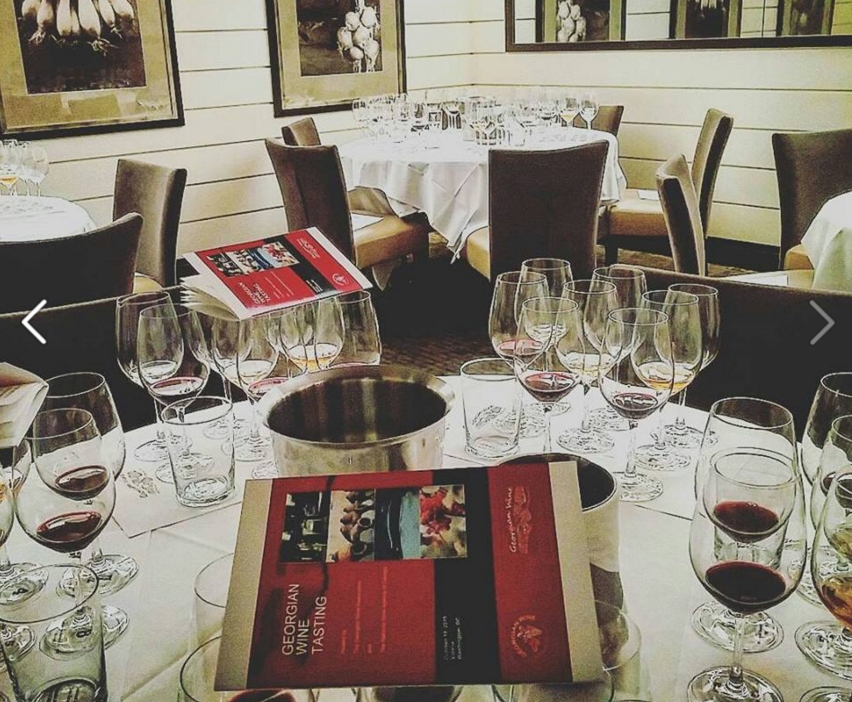 by Kathy Sullivan
21.10.2015. On October 19th was the final Georgian wine tasting, ending in Washington [read more:
United States marks October as Georgian wine month
-
HN
] . About 60 wine enthusiasts attended the tasting and everyone appeared to have an enjoyable wine tasting with tasty appetizers. The day was chilly but sunny in the District of Columbia, as we found our way to Vidalia Restaurant close to Dupont Circle. It did not take long to walk several blocks. We walked past the White House as our house guest, Tamta from the National Wine Agency, wanted to see the White House since this was her first visit to Washington.
After several more blocks we arrived at Vidalia Restaurant. The facility is located on the lower level and is divided into several rooms. The rooms are decorated with a comfortable but sophisticated atmosphere.
The first part of the wine tasting was a seminar led by
Lisa Granik MW
, a Georgian wine enthusiast. Lisa described the Georgian wine industry and touched on its history and how grapevines were used to help spread Christianity across the land. Her presentation included mention of
qvevris
and terroir. She said, "Wine is so much a part of Georgian life." Another comment was "Vines grow like ivy." Lisa followed this up by guiding us through a tasting of several Georgian wines.
At the end of the seminar, we went to other rooms to taste numerous Georgian wines and talked with several wine consultants/importers and also winery owner and winemaker Malkhaz Jakeli of Jakeli Organic Vineyard and Wines in Kakheti, Georgia.
Since we had previously visited several Georgian wineries, we focused on tasting wines produced by wineries unknown to us.
The wines available during the wine tastings were from 14 Georgian wineries. The wineries included: Bagrationi 1882, Jakeli, Sarajishvili, Telavi Wine Cellar, Lagvinari, Orgo, Our Wine, Pheasant's Tears, Schuchmann, Shalauri, Shalvino, Teliani Valley, Vinoterra and Wine Man.
While we tasted wines, we also were offered numerous
hors d'oeuvres
. Everything was very enjoyable including the many conversations with fellow wine lovers. One of the many people attending was Nina Kalandia, who is an enthusiastic supporter of all things Georgian and is currently focused on producing the film, The Land of 8000 Vintages.
The importers who bring Georgian wines into the United States who were in attendance included: Pacific Wine Marketing Group, Corus Imports, and Georgian Wine House of Greater Washington. If you haven't had an opportunity to taste wines from the country Georgia, just may be it's time you did. Cheers!
Source
To add this Search Box to your website, click here. Many designs are available.