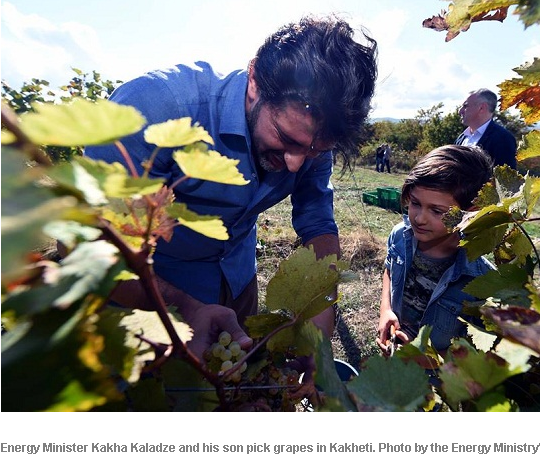 05.10.2015. Georgia's Prime Minister and other members of the Cabinet together with their children have participated in grape harvesting in the country's leading wine-producing region.
PM Garibashvili, his two sons, Vice PM and Energy Minister Kakha Kaladze, his son and other officials with their families went to the Kakheti region to pick grapes together with local farmers as Georgia celebrated the National Wine Day today.
"Since our team is in power more than four hectares of new vineyards have been created in our country," the PM said.
"This is because farmers are more motivated as the Government subsidises grapes."
"Farmers can sell their harvest with 100 percent profit."
Garibashvili also said in Kakheti farmers received about 300 million GEL as they sold grapes during the past three years.
October 4 is the Georgian Wine Day. The country honours its national drink with various celebrations in different regions.
To add this Search Box to your website, click here. Many designs are available.