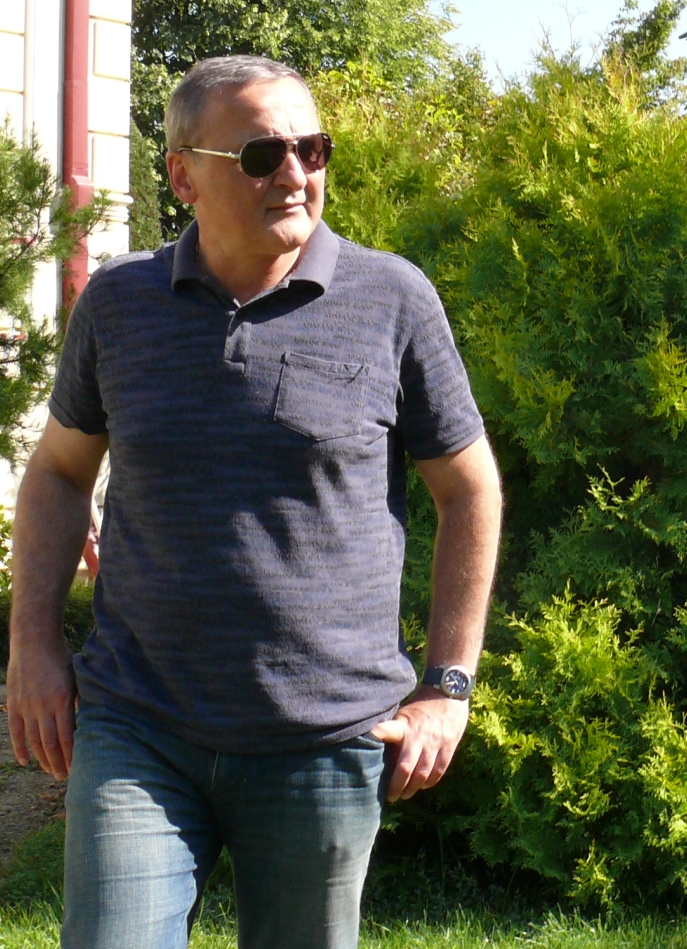 22.10.2015 (Hvino News). In most countries, the set of most respected and prestigious professions is pretty much similar. Commonly, it includes doctors, lawyers, bankers. Georgia stands out of the usual pattern. Winemaker in Georgia seems to be much more prestigious profession than anywhere else on Earth. I know several lawyers and at least two doctors who became prominent winemakers in Georgia. And there are also several professional engineers, artists and at least one sculptor, who gladly traded their hardly-earned professions for wine-making.
When I came to visit Telavi Wine Cellar, one of Georgia's largest wine producers (under "Marani" brand), I had the feeling I was in a private Swiss medical clinic. Combination of beautiful mountain views, fresh air, and shining steel equipment helped to produce this first impression. In course of conversation with Zurab Ramazashvili – the company's head – he told me he is an experienced otolaryngologist (a doctor specializing in ear, nose, throat disorders). That's when I started to see his business from a different viewpoint.
Founded in 1915, Telavi Wine Cellar is located just outside the city of Telavi
▼
Map
. Its elegantly restored historical building with a private rose garden and a small fountain is surrounded by vineyards, which seem endless. In fact, company's vineyards occupy about 450 hectares in Kakheti, Georgia's main winemaking region. Inside the office building, a wall at the meeting room is dedicated to awards won by the company, including the most renowned
Decanter
and
Mundus Vini
diplomas.
I was seeking the right word to describe my impression of Zurab Ramazashvili. I think the good terms are: "power of understatement" and "attention to detail". Some other Georgian wine business owners, whom I met in the past, have showed me their production equipment stressing proudly that is was imported from the European Union. Mr. Zurab explains that his shiny steel tanks were not imported at all, but assembled in Georgia. In a casual manner, he adds that this equipment was in fact produced at his own enterprise Vinotec, as if this is something commonplace. In reality, local production of sophisticated equipment is rare not only in Georgia but everywhere across all the post-Soviet republics. Vinotec supplies modern winemaking equipment not just for Telavi Wine Cellar but for other winemakers in Georgia.
Apart from the towering steel cisterns and busy wine bottling lines, which look pretty much the same at any modern winery of the world, Mr. Zurab shows me something very unique and typical for Georgia only – that's the
qvevri
cellar. The cellar, which is currently under construction, will accommodate 40 gigantic clay vessels to produce about 100 tons of wine according to the millennia-old Georgian traditional technology. The way Mr. Zurab is meticulously discussing the construction details with the worker makes me believe the
qvevri
cellar is his "pet project".
After more conversation, I realize Mr. Zurab's interests are spreading far beyond the wine cellar and metal hardware. "I am a gourmand... I would not mind starting a restaurant business", - he notes incidentally, as this is not something unexpected for a winemaker. But behind the words, there are accomplishments: It turns out Mr. Zurab has founded an organic dairy farm. He says that just days ago, he came back from Holland bringing along some special cattle. I could easily imagine him selecting the best hand-picked cows, feeling that "attention to detail" approach.
It's a pity Ramazashvili's dairy products are sold wholesale only, otherwise I would be eager to become a loyal customer. Quality dairy products in Georgia are in huge demand, and I wish more entrepreneurs follow in Ramazashvili's steps.
After all, when you know the wine (or milk) in your glass is controlled by a doctor, it feels a lot safer.
© Hvino News
To add this Search Box to your website, click here. Many designs are available.