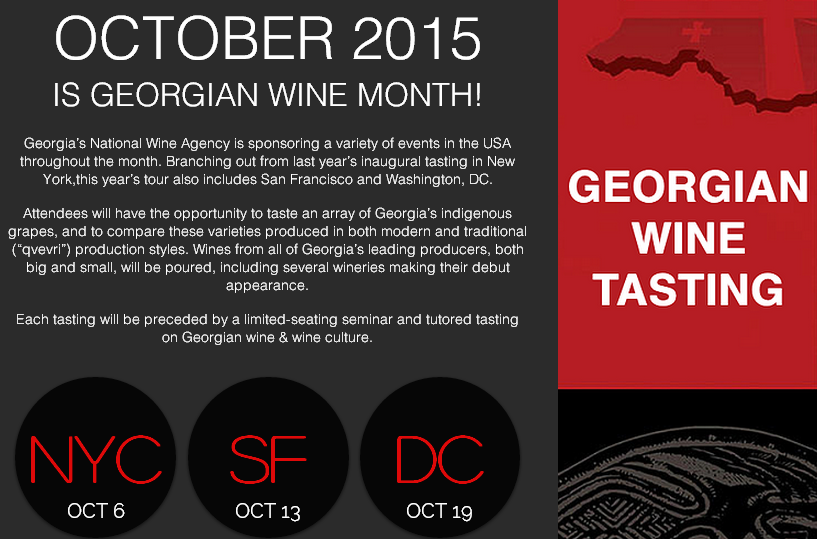 09.10.2015. (Hvino News). October has been declared as Georgian wine month in the US. This month Georgia's National Wine Agency is sponsoring a variety of events in the USA. Branching out from last year's inaugural tasting in New York, this year's tour also includes San Francisco and Washington, DC.
Attendees of "Georgian Wine Month" will have the opportunity to taste an array of Georgia's indigenous grapes, and to compare these varieties produced in both modern and traditional ("qvevri") production styles. Wines from all of Georgia's leading producers, both big and small, will be poured, including several wineries making their debut appearance. Each tasting will be preceded by a limited-seating seminar and tutored tasting on Georgian wine & wine culture.
List of participating producers includes:
Amiran Vepkhvadze
Antadze
Bagrationi
Jakeli
Kindzmarauli Marani
Orgo
Sarajishvili
Schuchmann

Shaluri
Shalvino
Vinoterra
WineMan
The celebration was organised by TastingWorks, a contractor company of the Georgian National Wine Agency. Head of TastingWorks and a master of wine
Lisa Granik
will lead an active PR campaign in the US to attract interest in Georgian wine.
Within this campaign Georgian wine will tour the US, visiting several locations including San Francisco on October 13 and Washington, D.C. on October 19.
© Hvino News
To add this Search Box to your website, click here. Many designs are available.