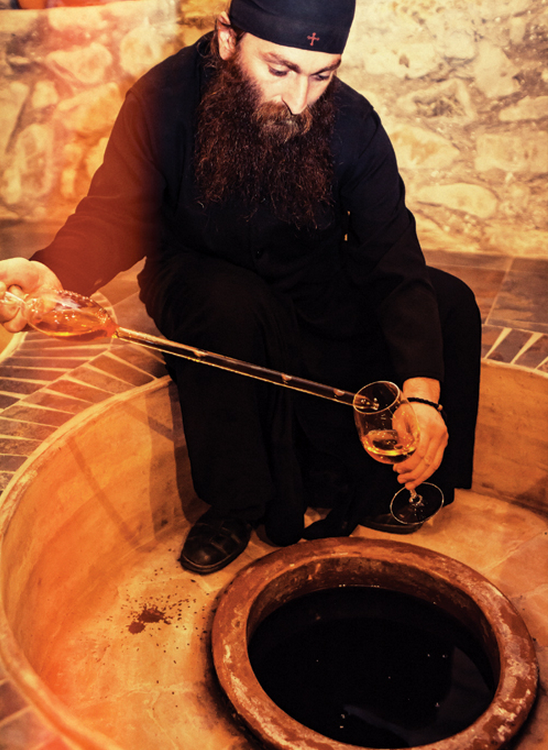 Photo: Landon Nordeman
by Michael Cecire
14.10.2015. "America's New Hot Wine," blared a
Washington Post
headline. "Older and Wiser," counsels the venerable
Financial Times
. "The next big food and wine destination," offers
Mashable
, the beating heart of the web 2.0 zeitgeist. For Georgia and its ancient winemaking tradition, the plaudits have recently come thick and fast.
And for good reason: Georgian wine is generally superb. The country boasts an embarrassing bounty of unique native grape varietals, and ancient methods that continue to confound and delight the winemaking world. And in Georgian wine, geopolitically aware connoisseurs are offered a fine pairing for their
onglet a l'échalote
(for me, I recommend the dark, fierce depth of the saperavi varietal) that doubles as a kind of repudiation of Russian militarism, while giving nods to a steadfast and dependable Western friend.
But Georgia's wine is about far more than rich tastes or a convenient reflection of a simmering contemporary conflict. Georgia's relationship with wine is deeply, nearly indescribably old and admixed into the very core of its culture. And it's that ancient heritage and long history that imbue it with geopolitical significance even today.
Georgia is the birthplace of wine. According to recent archeological evidence, proto-Georgian inhabitants cultivated grapes and made wine as far back as 6000 BC. Some linguists even suggest the Georgian word for wine,
ghvino
, is what gave wine its name. Just as striking, many of the same methods that early Georgians used to make their wine — such as using wax-lined earthenware vessels known as
qvevri
buried in the ground — are traditions that continue even today. Qvevri winemaking is not only historically interesting (UNESCO recognized it in its list of intangible cultural heritage in 2013), but is increasingly dealing shocks to oenophiles for the complexity and varied tones of its wines.
Georgia's wine is not only the national drink of choice, but a symbol of Georgian identity and civilizational continuity. There are not many places where grapes are seen tended and growing in central districts, on apartment block balconies, in storefronts, and even from dingy iron-doored garages, but the Georgian capital Tbilisi is festooned with vines. Almost every family, it seems, grows grapes and makes their own wine. Indeed, some of the very best vintages in Georgia may never come from a decanter, but from the spout of a repurposed Fanta bottle drawn from a makeshift
marani
, or rustic Georgian wine cellar.
It is said that in ancient times, Georgian warriors would lace grape vines under their armor to grow from their bodies should they fall in battle. And Georgia, the second-oldest Christian state after Armenia, credits its evangelization to Saint Nino of Cappadocia, who preached the gospel bearing a cross made of grape vines bound with her own hair. Even today, the Georgian cross of Saint Nino, recognizable for the downward slant of its arms, is a ubiquitous symbol of Georgia's Christian heritage.
Broad aspects of Georgian culture are bound to the country's winemaking heritage. The Georgian feast, or the supra, is a highly ritualized event where a toastmaster sets the pace and meter through a series of ordered, lyrical toasts raised with (often homemade) wine. It is often said that the supra is symbolic of the Last Supper, though some form of the practice likely derived from pre-Christian traditions.
Supras
occur for moments of great joy, such as weddings, but also during periods of sorrow or reflection — and just about anything in between. Georgian cemeteries are dotted by permanent supra tables overlooking the family plot, where friends and family will come the Monday after Easter to feast in honor of their loved ones. And wine, as always, is the centerpiece. Be in light, they say, emptying their last drops of wine in the sign of a cross over the plot.
Georgian wine may be finally gaining some well-earned international attention, but it has been a long road, despite the country's indisputable pedigree. The Georgian wine industry was devastated in the Soviet period through industrial homogenization and council-directed emphases on volume over quality. Georgia produced vast quantities of wine for Soviet markets, and especially Russia, but they largely emphasized sweet and semi-sweet varietals and blends that were favored by the Soviet elite. Qvevri winemaking persisted, but only as a household affair, as it was deemed too rustic for the scientifically calibrated Soviet palate.
Following a series of civil wars and instability after independence in the 1990s, the Georgian wine industry began to recover in the early 2000s, only to face new obstacles. Amid growing acrimony, Russia imposed a
de facto
embargo on Georgian wine in 2006, citing bogus phytosanitary "concerns" as a justification for shuttering the Georgian wine industry's primary export market virtually overnight.
The embargo pushed the Georgia's wine industry to the edge of ruin, but it also had the unintended effect of pushing Georgian winemakers to better hone their products for international tastes. Dry reds, once an export afterthought, have become an increasingly dominant offering. Qvevri wines were translated from village dacha affairs into a legitimate, and now industry-innovating, commercial product.
When Georgian wines returned to Russian shelves in 2013 after the embargo was lifted, they reentered in a much stronger position. In terms of sheer volume, Russia is again the prevailing market for Georgian wines. But now, Georgia's varied offerings also enjoy a solid, cult following in Western markets, including among important segments of the global wine cognoscenti. And as strong as Georgian wine's rise has been in the West, the real prize may be in the east, where the popularity of Georgian wine is reportedly exploding in places like China by tapping into a burgeoning and undeserved middle class luxury goods market.
Still, the reopening of the Georgian market to Russia carries as much risk as opportunity. The Russian economic slowdown and the ever-present possibility that Russia may seek to wield its trade imbalance as a cudgel threatens the growth of the Georgian wine industry and the stability of the economy as a whole. It is not only that a renewed Russian ban would deal fresh blows to an emerging Georgian international industry, but that it could paradoxically help empower the very forces in Georgia that advocate revitalizing relations with Russia at the expense of the country's Western orientation.
While Georgia has experienced periods of solid, and even spectacular, economic growth since 2003, this has translated unevenly for ordinary Georgians. Economic policies for much of this period emphasized economic growth through efficiency gains and developing a services-oriented economy. But such approaches did little to move the needle on perennially high unemployment. However, as the more labor-intensive Georgian agriculture sector has begun to revive (due in no small part to the reopening of the Russian market), joblessness in the country has concomitantly fallen. If Russia imposed a new embargo, those same jobs would likely evaporate.
Fearing for their livelihoods, some Georgians may join a small but growing chorus of voices — financed and coordinated at least in part by Moscow — that favor accommodating Russian imperial pretensions over the South Caucasus in exchange for economic stability. Advocates for such policies also dangle the possibility that Russia would abandon separatists in Abkhazia and South Ossetia and return these regions to Tbilisi's control.
Perhaps not without merit, pro-Russia Georgians frequently point to unfulfilled Western promises from 2008 to bring Georgia into NATO as further evidence that Georgia is better off with Russia, and not against it. All this in mind, it stands to reason that drinking Georgian wine, and helping Georgia diversify from the expansive but temperamental Russian market, is a helping hand for a country hoping to stay out of Moscow's clutches — militarily, economically, and otherwise.
Georgian wine is more than a timeless elixir or a hot international trend, but a very symbol of Georgian independence and, to no small degree, an actual, working fulcrum upon which some elements of its sovereignty may rest. But the good news is that we can do our part to help by simply picking up a bottle of a crisp tsinandali white or a deep red saperavi. Try several, find some that are yours, and discover a new perspective on wines from the oldest of the old world.
Peristsvaleba Sangria, a recipe for Georgian autumnal sangria:
One 750 ml bottle red Georgian wine (Saperavi recommended for some real harvest heft)
One cup fresh-squeezed mandarin orange juice, using a kind similar to those commonly grown in Georgia's lush subtropical Black Sea coastal regions
Two (small) mandarin oranges, sliced into thin wedges
One ripe persimmon, cubed or sliced into wedges
One-half apple, preferably orchard fresh, slided into wedges
Slice the fruit and place it in a large pitcher. Add mandarin orange juice, wine, and stir well. Refrigerate at least 3-5 hours before serving.
Source
To add this Search Box to your website, click here. Many designs are available.