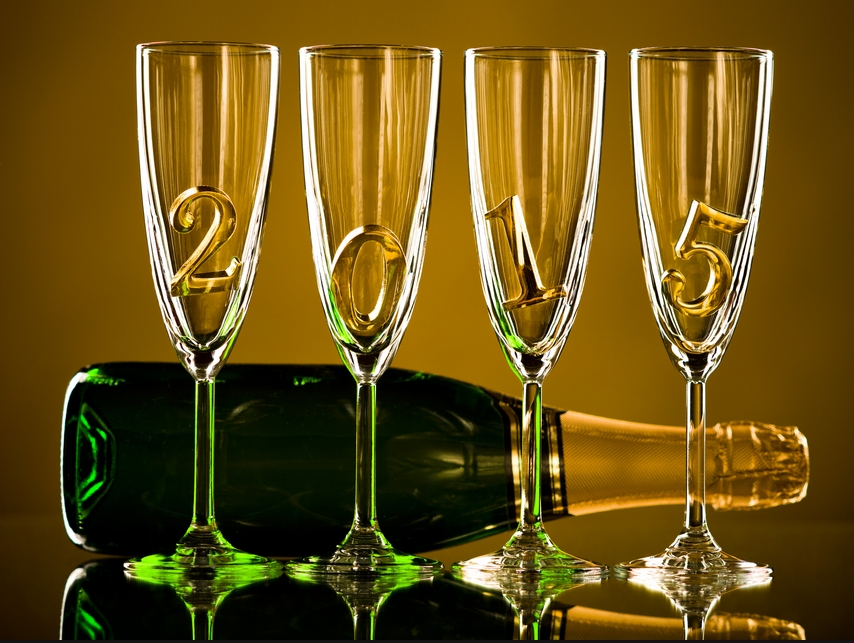 by Aleko Tskitishvili
26.12.2014. There could be no New Year table without sparkling wine. And if the New Year celebration is accompanied with sparkling wine from the famous Champagne Appellation, the feeling of satisfaction is doubled. However, good champagnes are still a deficit in Georgia and you can come across them only in a couple of specialized wine stores. This is why, when you start selecting wines for the New Year in Tbilisi, you will be more likely to choose from a range of sparkling wines.
The quality of Georgian sparkling wines is growing by the year. In wine stores, you can find several types of low, medium and high priced sparkling wines. Low priced sparkling wines are made in tanks and are bottled afterwards. The majority of medium and high priced sparkling wines are made using the classic bottling method. When tasting the latter, you will feel from the very first sip that this is how a sparkling wine should be made.
Of the Georgian sparkling wines, for New Year I would advise Winery Khareba's 12-month-old semi-dry sparkling wine made with the classic bottling method using Tsitska grapes – an aromatic grape species from Imereti. The Satrapezo-Brut of Telavi's Marani, and sparkling wines of Badagoni are also quite interesting.
Of course, you can't miss the sparkling wines of Bagrationi 1882, specialist producer of sparkling wines. For the last ten years, Bagrationi has made a full modernization of its enterprise and significantly improved the quality of its products. The company uses several Georgian grape species to produce dry, semi-dry and semi-sweet sparkling wines. These species are Tsitska, Chinuri, Goruli Green, Green Kakhuri, Rkatsiteli, and Tavkveri. Special mention must go the Bagrationi Rose made of Tavkveri – a rose sparkling wine which revealed the potential of the Kartli region grape type Tavkveri in the production of rose-type sparkling wines. I would advise the Georgian rose sparkling wines for New Year for those who like light wines.
In wine stores, you can also come across fizzy wines which differ from sparkling wines in that they are artificially charged with carbon. Yet I would still advise you to stick to sparkling wines. However, if you choose to buy New Year wines from the lower-priced segment, then, out of curiosity, you might grab a bottle of fizzy wine as well, especially seeing as their quality has increased quite a bit recently.
To finalise, let us return to champagne. As I mentioned earlier, you cannot find champagne everywhere in Tbilisi, which is why I think you should go straight for the best if you want it– the natural champagnes of the natural wine bar and store Vino Underground, especially the Franck Pascal and Rose Tolerance. Restaurant "Azarpesha," an associate restaurant of the aforementioned wine bar, can invite you to their place on New Year's Eve and offer Georgian and European dishes matched with natural wines. You will find Franck Pascal champagne here matched with baked carp,
jonjoli
and green olive paste
tapanada
.
Hopefully, for the New Year, there will be high-quality wines along with price deals in specialised wine stores and wine sections of hypermarkets Goodwill and Carrefour, especially for champagne, which is transported from France, as such deals increases prices for already highly-valued products.
Source
To add this Search Box to your website, click here. Many designs are available.