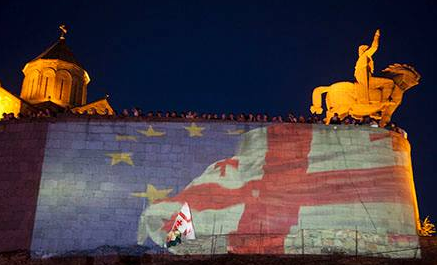 19.12.2014. The European Parliament yesterday ratified the Association Agreement between the EU and Georgia. 490 deputies voted for the document, 76 were against, 57 deputies abstained. During the vote in the hall of the European Parliament were present the current president of Georgia, Giorgi Margvelashvili, and ex-President Mikhail Saakashvili, who has been put on the wanted list in his country.
Economic expert Irakli Lekvinadze said what Georgia expects from the Association except the opening of borders. "This is a very important agreement for us, both politically and, of course, in economic terms. One of the points of the agreement is free trade, and for us this is very important. In the first place, of course, those companies that export their products from Georgia to Europe will benefit: before September 1, they paid customs tariff, from September 1 this tariff does not exist. This will affect those Georgian companies that export wine and various fruit concentrates to the EU, providing additional revenue. This is one of the benefits that we got in Georgia after ratification of the treaty," the expert said.
The second benefit is investment in Georgia. According to Irakli Likvinadze, foreign investors who are now coming to Georgia evaluate the possibility of transferring their production to the country or starting new business prospects. As for long-term prospects, according to experts, they are more concerned with Georgian companies: while those working in the European market are already planning to attract investment and to find the resources that are important to introduce new technology, new standards and produce their products so that it is interesting for the European consumer.
"In Georgia, there are not many products conforming to the European market, but I think it's a matter of time. And for us in the long run this is export growth, investment growth, and ultimately - employment growth. So, standbys in Georgia after this contract are very big. And another important issue. I think that this agreement does not prohibit Georgia from making similar free trade agreements with other countries or trade associations. This, I think, is one of the great advantages for the Georgian business and those companies that operate in the region and throughout Georgia can present their products in Europe," the economist concluded.
Georgian political scientist Joseph Tsiskarishvili agrees with him: "Most likely, the Association of Georgia and the EU will be a foreword for Georgian business opportunities to find partners and prepare their own resources with European standards. Its role will encourage an availability to participate in educational programs, which can be interesting for young people. But a special wish is to represent the Caucasus as a paradise, though, of course, you can call it a pipe dream," the analyst said, stressing that there are positive aspects to European association, and reasons for some kind of disappointment.
So Georgia has considerable tourism potential, but considering the experience of Spain, standing in second place in tourism activities after France, it can be assumed that the development of tourism in Georgia will be less active, although in this respect the country has good prospects. "The very European approach in different directions: both in production and in agriculture and in the humanitarian sphere - will certainly be a step forward. As far as Georgia itself being ready to associate with the European Union, the very near future will show. The main thing is that the communication of Georgia and the EU does not provide any kind of obligation or termination of contacts with any other countries," Joseph Tsiskarishvili said.
On June 27, 2014 Georgia signed an association agreement with the European Union, providing for entry into the EU free trade zone. Parliament ratified it at an extraordinary session on 18 July. In order to come fully into force it requires ratification by the parliaments of the EU member states. Today it has been ratified by ten member countries of the European Union.
To add this Search Box to your website, click here. Many designs are available.