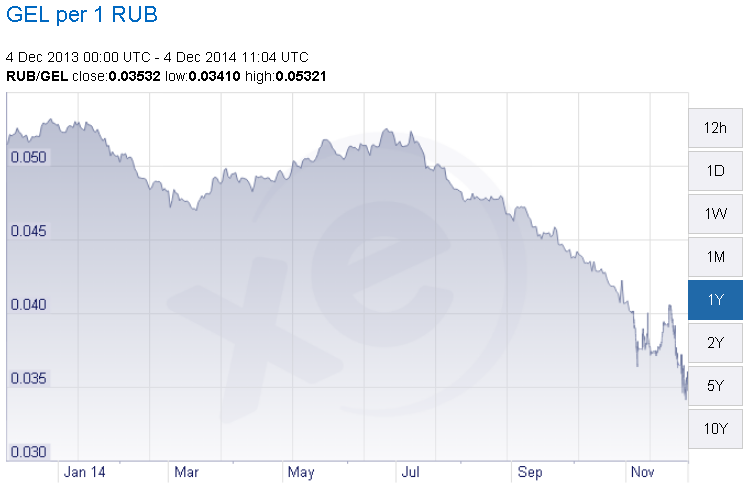 04.12.2014. Will the ruble's depreciation cause a hike in prices of Georgian wine on the Russian market? What risks are the Georgian winemakers talking about and what are the Russian side's requirements? At this stage exporting companies have already received the first messages from the Russian partners.
Georgian wine price will rise on the Russian market – the Georgian winemakers forecast in the backdrop of the Russian ruble's devaluation.
Exporting companies say they have already received the first messages from the Russian partners.
Georgian winemakers name several reasons for wine price increase. The main one is the record-beating increase of prices registered during a vintage. Price for saperavi grapes was GEL 2.5 per kg in 2014 which is about 50% higher than in 2013. It is also important that this year up to 90 companies have purchased an unprecedented number of overall crop (119 052 tons).
The Sommelier Association states that the ruble's devaluation does not affect sales at this point. However, the Georgian businessmen will have to raise prices and revise a volume of export products in the future.
According to the National Wine Agency, before the Russian embargo, Georgian exports to the northern neighbor's market accounted for 87% of the total exports. Last year when trade relations with Russia were restored, wine exports reached 60%. This means that every company will have to revise prices or volume of sales due to the Russian ruble's devaluation. The government can only help wine producers in mastering alternative European market and promoting Georgian wine there.
The National Wine Agency says that Georgian wine exports have grown dramatically in the Chinese, Polish and American markets this year. According to the Agency, the government is not focused on the Russian market and is actively working on alternative markets. Exporting companies trading on the Russian market should determine the risk factors themselves.
Source
To add this Search Box to your website, click here. Many designs are available.