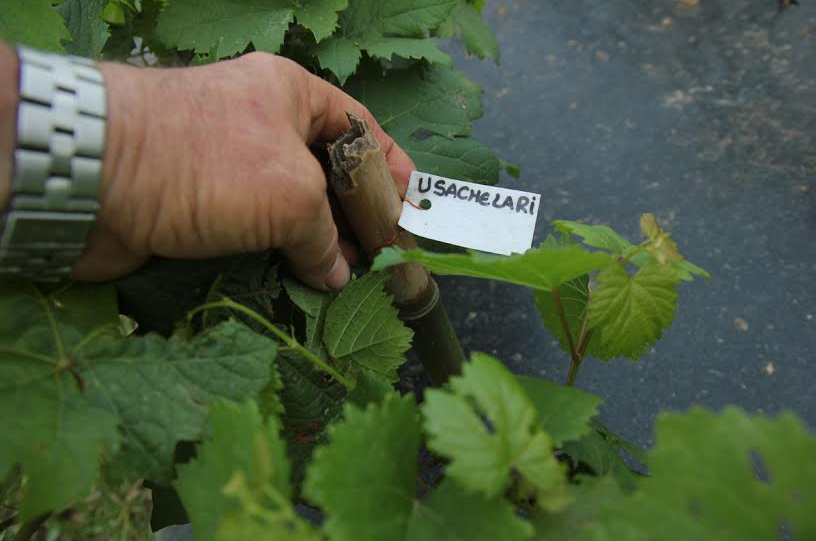 Photo: vinoge.com
by Nina Akhlouri
14.12.2014. About 4 years ago, James Carl, a Brazilian acupuncturist, could not imagine that winemaking would become a significant part of his life. Indeed, as he told us, one never knows "where your heart may lead you." A growing interest in winemaking led him to start studying catalogs and scientific articles on grape varieties as well as climatological findings of the South of Brazil. James' interest was soon drawn to indigenous varieties from Greece, Georgia and Portugal. He came to the conclusion that the most resistant varieties to his country's climate conditions were Georgian and Portuguese ones (for humid and mountainous regions) as well as Greek varietals (for hot regions).
"My heart was captured especially by Georgian grapes, by their aroma and unique taste. I also realized that Georgian varieties would not be challenged by the humid conditions of the region. After all, in Brazil, we constantly strive against moisture. Therefore, I contacted the Georgian Embassy in Brazil and asked them to help me get in touch with a researcher of Georgian grapevines. They gave me a phone number of professor David Magradze. Since 2012, we have been in contact with each other every now and then," James told us.
During that time he was introduced to José Ayub, the owner of Campos de Cima winery, which is located on the Western Border of the State of Rio Grande do Sul, near the borders with Argentina and Uruguay. The Ayub family produced their first wines from their own grapes in 2006. The vineyards have an elevation of 180 meters, located in the Pampas. They only started building their own winery in 2012. It is a boutique winery with a small production, aiming for high quality wines. Carl and Ayub, along with Michel Fabre, a French winemaker, hope that Georgian grapevine will suit the terroir of Pampas, which has hot weather conditions during summer and low temperatures in winter.
Today, there are 11 types of Georgian vines planted in the Campos de Cima vineyards: Saperavi, Ojaleshi, Usakhelouri, Nakashidzis Jani, Aleksandrouli, Tavkveri, Mujuretuli, Chinuri, Mtsvane, Rkatsiteli and Gorula. As James told us, because it is hard for Portuguese speakers to pronounce these names, they had to change the names of some of these varietals. Thus, new versions, such as Usachelari or Taveri have appeared in the Campos de Cima vineyards.
Carl believes that there is a great potential for Georgian vines in Brazil. However, they are still experimenting to find out how they suit the local climate. They have planted the vines in four different types of terroirs. It is going to take about four years of analysis and research on phonological aspects for the experiment to end.
"The viticulture in Brazil is growing fast, especially in the Southern regions, where there is a subtropical climate characterized by humid summers. Excessive moisture is a constant issue for the Brazilian winemakers, who strive against it all the time. Humidity is especially problematic when it comes to French varieties. As a result of my research, I've come to the conclusion that Georgian varieties are resistant to humidity, therefore, they can become a good alternative for French grapes. I'm really glad that such exceptional vines are grown in your beautiful country. I have already had a chance to taste Usakhelouri and an Australian wine made from Saperavi grapes. I also liked Bagrationi Sparkling Wine. I look forward to trying your semi sweet wines as well."
James Carl admitted that Chinuri and Usakhelouri have been his favorites so far. During his interview with "Marani," he also pointed out that even though it is easy to make Saperavi wine, they beauty and the elegance of Georgian woman is better expressed in Usakhelouri.
Surprisingly, the Brazilian researcher knew quite a lot about Georgian wine and
qvevri
winemaking. He even told us that he planned to make wine following Georgian methods. Indeed, Campos de Cima winery is primarily focused on European technologies.
James is going to visit Georgia next year as well to learn more about
qvevri
winemaking and about the culture of the country that has given new future to the Brazilian viniculture.
Source
Translated by Tea Kokhreidze.
© Georgian Wine Club/vinoge.com
To add this Search Box to your website, click here. Many designs are available.