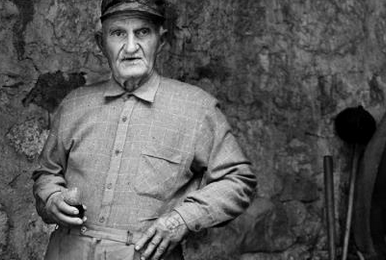 15.12.2014. Some may know him as "The General," others, simply as Ruben. He was a
qvevri
wine maker in Racha, a mountainous region in the Republic of Georgia known for a semi-sweet red wine called Khvanchkara. We were visiting Iago's Winery last weekend when I happened to mention to my friend Irakli that he really needed to pay a visit to Ruben before he died. Iago told us he had died two days ago. I think he was a national treasure. I had the honor of visiting his
marani
last October with my Rachan guide Natia and my friend Nicoletta. I went to Racha to lean how to make a bean pastry called lobiani, but I was also on a mission to meet Ruben. We visited him unannounced one morning and he was there, in his camouflaged glory, grumbling to himself about the inconvenience. A grumpy, opinionated old man whose eyes sparkled with the joy of living.
He was alone now, but he spoke proudly of his highly educated granddaughter who spoke perfect English. His
qvevri
were buried under about a foot of mud. He placed some snacks on a table in his
marani
and then went to work to open one for us with the help of local young
vigneron
, Aleco Sardanashvili. They poured the luscious and precious wine into a
doki
, with small glasses that resembled Turkish tea glasses, we toasted to our health, to Georgia, to our families and many other ideas and things. Natia informed me we had to toast and accept the wine and to drink it with him or we would be breaking all the laws of hospitality. By about 11am, I was completely inebriated. He poured another
doki
, and we, his guests, had to toast. Passing the toasting to another person in Georgian is called
alaverdi
(like the wine making monastery in Kakheti).
In short, it was a moment in my life that I will never forget. Visiting an old man in his 80s, still making traditional qvevri wine, honoring the ancient codes of Georgian hospitality, whose eyes had seen many changes in the world and who remained steadfast, was an honor. As the Georgians say- he has moved on. The world will never have another like him. I am consoled knowing that there are young
vignerons
like Aleco Sardanashvili who continue this tradition in Racha.
Thank you to Natia for organizing this visit for me. It was a huge honor.
GAANATLOS
RUBEN! May you rest in peace!