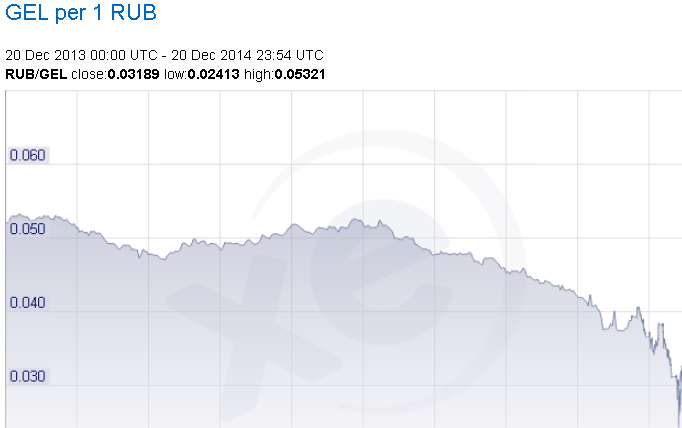 21.12.2014 (Hvino News). Georgian Agriculture Minister Otar Danelia said that devaluation of the Russian ruble will not have a negative impact on Georgian exports. Georgian exporters have recently been complaining about loss of profit and sales of Georgian wine in Russia because of the weakening Russian currency.
However, Georgia's president Georgi Margvelashvili said last Thursday that Georgia's economy has been buffeted by the Russian currency crisis and the Ukrainian conflict but it is still growing strongly. Margvelashvili spoke to
Reuters
from Strasbourg, where he watched the European Parliament ratify an EU-Georgia trade and cooperation accord, describing this as an important step toward Georgia's eventual goal of EU membership.
The Georgian economy was generally in good shape but had suffered some side effects from the plunge in the Russian rouble and the Ukraine crisis, he said in a telephone interview.
"The fluctuation of the rouble has hit some of our main products on the Russian market which are basically alcohol and beverages," Margvelashvili said.
"The products have become more costly in that market so for sure it has hit some of our wine production. It is not catastrophic, but we do feel the problems with the rouble," he said.
© Hvino News
To add this Search Box to your website, click here. Many designs are available.