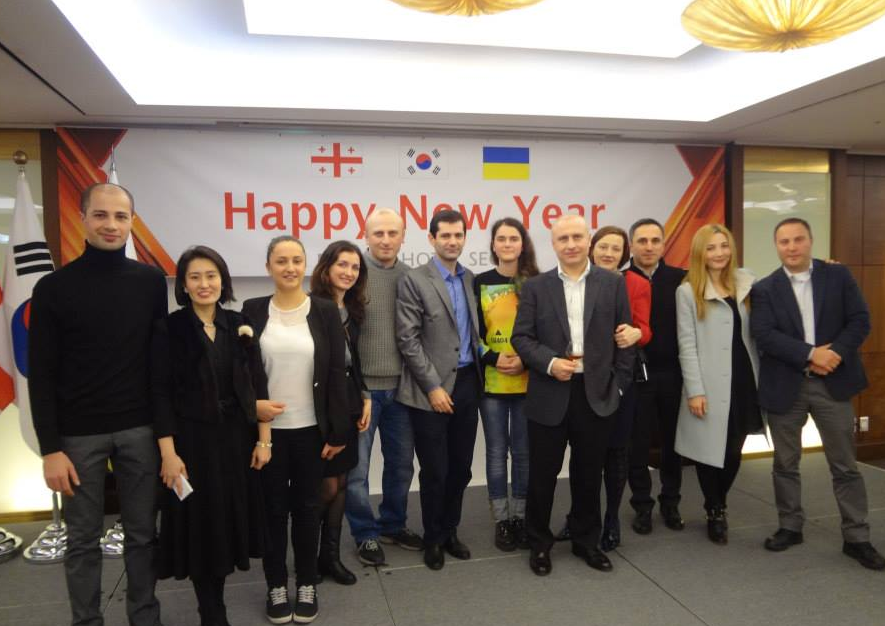 by Kang Hyun-kyung
28.12.2014. On Tuesday, the Embassy of Georgia gave over 100 guests the opportunity to taste Georgian wines at the Lotte Hotel in Seoul. Among those who attended were former Prime Minister Chung Un-chan and foreign diplomats.
All were invited to explore dry, sweet and semi-sweet wines. The event was a collaboration co-hosted by the embassies of Georgia and Ukraine. The Ukrainian Embassy provided the food.
Georgian Ambassador Nikloz Apkhazava has energetically promoted Georgian wines since he arrived in Korea. Every year, the embassy has hosted wine-tasting events to help Koreans explore the unique tastes and flavors of its wines.
Thousands of winemakers in Georgia, mostly family-owned wineries, have produced wines for over 8,000 years based on unique methods using large clay jars called
kvevri
.
Last year, this unique Georgian way of making wines was recognized as an intangible cultural heritage by the United Nations Educational, Scientific and Cultural Organization.
The home of this wine-making method is now facing an uphill battle in its push to diversify its export markets amid the deep economic troubles facing its major export destinations — Russia and Ukraine — in the wake of the former's annexation of Crimea.
In the first half of this year, Russia accounts for nearly 66 percent of Georgian wine exports.
Korea has been on the list of Georgia's one of the targeted markets where Georgian wines want to have a strong presence.
In a media interview, Levan Davitashuili, chairman of the National Wine Agency of Georgia, said that his country is eyeing countries such the United States, Britain, and East Asia where Georgian wines are not known to diversify exports.
Industry experts say it will take time for Georgian wines to establish its brand in Korea which has seen a rapid growth in wine imports over the past decade.
Competition has been heavier in recent years as winemakers from countries with which Korea signed a free trade pact ratcheted up effort to sell more wines, they said.
Kim Jun-cheol, president of JCK Wine School in Seoul, said that Koreans are not familiar with the taste and flavor of Georgian wines and that this will make it difficult for Georgia to see a rapid growth of Georgian wine consumption here in the short run.
Source
To add this Search Box to your website, click here. Many designs are available.