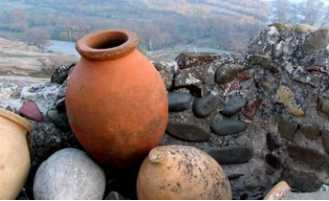 05.12.2014. After a traditional Georgian giant jugs for the production and storage of wine -
kvevri -
were recognized as a cultural monument by UNESCO, winemakers are seeing an increase in popularity not only wine produced in this way, but also
kvevri
abroad.
Furthermore, their shortage is even being observed.
Georgian pitchers received a monument status in 2013. Read more here:
Georgian qvevri wine-making method approved for UNESCO's Intangible Heritage List.
The then Deputy Minister of Culture of Georgia Marina Mizandari stated that such status obliges the country not only to protect
kvevri
, but also to promote this method of wine production.
"The status of a monument of culture is very important in terms of marketing, because finding
kvevri
in the list of UNESCO cultural heritage makes it more recognizable globally," - she said.
House of Wine company claims that the wine produced in
kvevri
has several advantages, although the status by UNESCO did not affect their work. According to the company's manager Maya Nodia,
kvevris
are interesting to a narrow circle of people interested in winemaking.
Director of Shalauri Wine Cellar David Buadze, on the contrary, says that after getting
kvevri
to Cultural Heritage List, interest in wine produced by this technology has grown.
"Our wine is sold not only in the shops, but also in restaurants, and now we are negotiating to enter the export markets - the United States, some European countries and China. However due to the fact that the
kvevri
wine is specific and is designed for high-end consumer, the Chinese trend is not a priority for us. Wine from
kvevri
is very promising, as demand for organic wine is growing worldwide. In the current situation, we have a deficit of
kvevri
jugs that are now exported to France, Croatia and other wine countries,"- he notes.