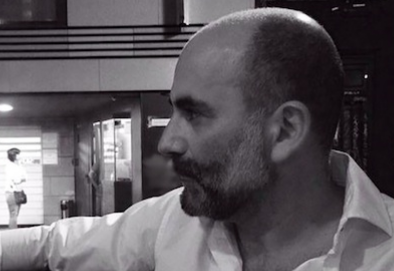 28.07.2014. For now Georgian wine is lost among all the competition on the EU market. However, losing a battle does not necessarily mean losing the war, says Luis Echánove, owner of the branding company Razonable. He has been invited to Georgia by TBC Bank for regular master classes targeting Georgian businesses.
"Entering EU markets will be a great challenge for Georgians. Offering differentiating features and not being excessively ambitious" is the key advice recommended by Echánove.
The Georgian Parliament ratified the Association Agreement with the European Union at an extraordinary session on 18 July. Georgia -- alongside Ukraine and Moldova -- signed the key political and economic accord in Brussels on 27 June.
Luis Echánove is founder of Razonable and has been its executive creative director since the company first began to operate in 2003. He has developed branding and design projects for both local and international companies such as: Carrefour, Coca-Cola, Leroy Merlin, Orange, Hibu (Yellow Pages), Vueling Airlines, NH Hotels, Reina Sofia Museum, Viceroy watches, Mahou beer, Carlsberg, Heineken, Madrid City Hall, Kelogg's, Campofrío, Schweppes, Correos (the official Spanish postal service) and several Spanish wineries.
"Entering a new market is a great challenge for any brand. The EU market is huge and complex. I would recommend that Georgian companies establish a point of differentiation in what they offer versus what the competitors they are going to find in the EU are offering. I would also suggest not being excessively ambitious. Ambition is good for brands but a market of more than 5 hundred million potential consumers could be a bit too big for some brands. I would try to find the most appropriate niche for my product before taking unnecessary risks."
Q. The EU member states are operating by common guidelines, however each of them remain prone to their own individual rules. What are the key distinguishing features of each country?
A. In general terms, regarding legal regulations I would not say that there are great discrepancies between the different members of the EU. The EU regulations are common for all of them and must be followed by all members. The point is that the countries are developing other regulations that are not going against what the EU has dictated, but are complementing the EU laws. Don't forget that all the decisions taken by the EU are thus taken by its member countries, so it is not possible to find either contradictions or substantial differences between different members' regulations.
Q. Georgian winemakers are well presented on European markets, however their share is not very large and they still remain largely dependent on post Soviet countries. What are the main mistakes that have hampered the establishment of Georgian wine as a brand?
A. The wine battle is a hard one in the EU market. The three main wine producers worldwide are all members of the EU (France, Spain and Italy). Besides them, the "New World" wines (Argentina, Chile, South Africa, California, New Zealand and Australia) are also marketing their products in a very successful way in the EU. I would say that at the beginning this could almost be seen as an impossible battle to win. It could be read the other way round though: the wine consumer is eager to be surprised by new good quality products. The thing is that these products must be seen as really new (again the idea of finding your point of differentiation) and of really good quality.
Q. Tell us from your own experience please, when you enter a wine shop in Spain, which wine do you generally choose and why? Also, how well is Georgian wine presented there?
A. In Spain the wine shopping experience is quite sophisticated. Most people tend to think that they are experts. Basically, it is a self service system in which the client takes as much time as they need to find that precious jewel that they need to surprise their friends and family with. That is why an assisted sale needs to be done by true expert store employees that can guide the client on the right path to that very treasure they are looking for. Georgian wine is almost nonexistent on the Spanish market. You can probably only find it in the most specialized wine stores, but clients are never going to ask for it because they do not even know that Georgia produces wine. They will buy it if they are recommended to buy it but to succeed in such a sale, the product has to be really special.
Q. This is your fourth visit to Georgia. What are the main changes that you have noticed year after year?
A. Each time I come it is like it was my first time. To me this is like an ever-changing country, always positively surprising. It is admirable the ease with which new developments are adopted in all different fields of the economy, politics and social life.
Q. Awareness of Georgia as a country is still limited globally. Do you see the importance of branding our country, and if so, then how?
A. I think that it is crucial to brand the country. Georgia needs to be situated on the map and on the minds of everybody worldwide. It will be good for the country and the people of Georgia. The way to do it is by using branding techniques that are being used to develop all kinds of successful brands. A branding expert developing the brand of a nation would need the help and guidance of the people of the country. People that feel the nation and also people that can be vehicles of the brand worldwide. The Georgian Diaspora could also be very useful in that respect. The leading of this process by a non Georgian offers the advantage of helping Georgians transmit their values and their views to all the different audiences or targets.
Q. What makes Georgia different?
A. When I ask Georgians if this is Europe or Asia there is never a clear answer. Someone told me a few days ago that it is a mix but then she corrected herself and said that Georgia is a fusion of Europe and Asia. That is a new view, fresh and different.
Q. Georgian companies are quite active in online branding. What are the trends in Europe and do you think that for Georgian companies, as new entrants, offline campaigns will be more efficient in the EU member states?
A. On this point I have to say that size matters. It is cheaper and easier to reach a 4 million populated market using online communications than through classical TV ads. When you are facing a market the size of the EU, it changes. Then online media, the social networks, become a complementary piece of the whole communications system in which TV is still the most efficient form of media when you want to achieve appropriate coverage for the messages of your brand. Having said that, we cannot forget that the way people tend to consume television is changing. Now there are more people watching TV on their mobile devices, the audiences are much more fragmented and the consumption of TV on demand is growing. These factors have to be seriously considered when brands decide to go to television as their main communication vehicle.
Q. Can you name a company brand operating in the EU that has managed to succeed on the EU market and can you highlight its advantages?
A. As a Spaniard I want to name a Spanish brand, for example Zara. Everybody knows it and everybody speaks of it as a successful brand. What is very interesting is that in terms of what is typically understood by people as a brand (logo, colours, communication, advertising etc.) Zara is not that relevant. They have been able to succeed without advertising campaigns, without a punchy visual brand identity. One of the secrets of their success is that they have built a really strong brand using pure marketing tools.
Q. When talking about multinational brands, the majority of them are originally from European countries or the U.S. What are the reasons for this?
A. I guess it is just a question of economic power. There are also great multinational brands from Asia, especially from Japan and Korea. The more active and vibrant the economy of a country is, the more they need to expand and export. If they want to succeed when they expand they have to have not only good products, but they also have to know how to market them properly and it is there that branding plays a starring role.
Source
To add this Search Box to your website, click here. Many designs are available.