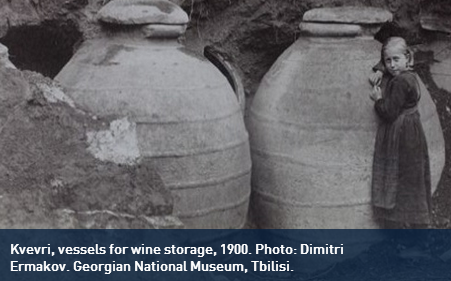 29.07.2014. An annual European cultural festival in Germany's capital city is focusing on Georgia for the first time.
The 2014 annual European Culture Days in Berlin are devoted entirely to Georgia and its unique dining experience.
For the past 14 years, Berlin's Museum of European Cultures has offered an annual program of exhibitions and events known as Culture Days. The event aimed to establish and maintain connections with European partner museums however the primary goal of Culture Days is to provide guests from Berlin and wider Germany the chance to gain insight into other European cultures and traditions.
This year Culture Days will focus solely on Georgian viniculture and dining culture. During August revelers will have the opportunity to enjoy Georgian traditional wine culture and 'supra' – a traditional Georgian feast that is an important part of Georgians' life.
A special feature of the supra is the election of a
tamada
, a tableleader, who leads the guests through the evening with a variety of toasts as guests gorge on food and drinks.
At the Culture Days exhibition, visitors will be able to watch local dancers perform to typical Georgian music. Presentations by artists and scholars from Georgia and Germany will illuminate the history of Georgia's viniculture and art, its music and how celebration is connected to everyday life. The extensive program will offer a variety of films, concerts, lectures and readings, as well as wine tastings and culinary surprises.
A display of photographs by one of Georgia's foremost photographers, Dimitri Ermakov (1846-1916), will be on show. His work illustrates Georgia's wine-making process in the 19th and early 20th centuries. Implements for wine-making and vessels from the ethnographic collection of the National Museum of Georgia will also be on display.
Wine has been made in the Caucasus region for about 8000 years. Its cultural importance for Georgia and the Georgian people is extremely significant and in 2013, UNESCO included Georgia's special technique of fermenting wine in clay amphora in its List of Intangible Cultural Heritage of Humanity.
The Georgian Culture Days are supported by the Georgian Embassy in Germany, the Georgian Ministry of Culture and the Preservation of Historic Monuments, the National Museum of Georgia and other partners in Georgia and Germany.
Source
To add this Search Box to your website, click here. Many designs are available.