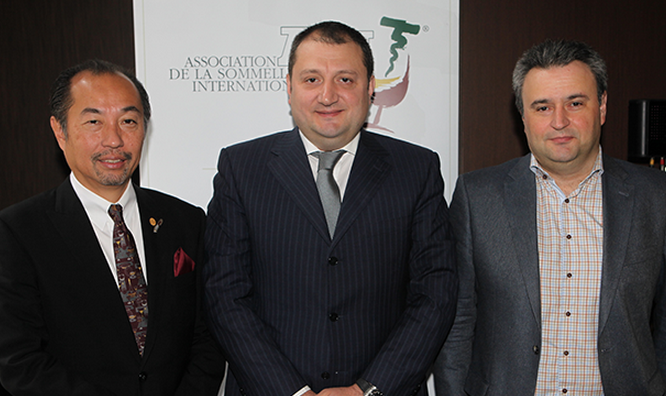 Photo: A.S.I.
20.07.2014 (Hvino News) Two
International Sommelier Association (Association de la Sommellerie Internationale, A.S.I.)
observer members for 4 years, Georgia and Spain, became active members thanks to the positive vote of the General Assembly in Reims on July 5th, according to official information of A.S.I.
Shalva Khetsuriani, president of the Georgian Sommeliers Association, supported by the Russian Association, said that he was very grateful and really willing to enhance sommellerie in Georgia. Read also
here
.
Pablo Martin, president of the UAES, supported by UDSF and its president Michel Hermet, also said he was very proud and moved to come back with full rights in the great family of the A.S.I.
Now the A.S.I. counts with 57 active members, from 57 countries around the world.
A.S.I. is a non-profit making organization founded in Reims (France) in 1969. It has the following aims:
To bring together the national sommellerie associations (just one member association per country) and to promote their founding where they do not yet exist
To co-ordinate actions aimed at developing and advancing the profession by various means (training courses, etc.)
To enhance the sommelier's profession as well as educating the consumer
To defend the ethics of the profession
A.S.I. participates in all events related to wine, spirits and other drinks, and is able to take any action directly or indirectly aimed at its objectives defined above. The A.S.I. legal Headquarters are located in Paris (France) and is administered by the member country holding the presidency for a three-year period.
© Hvino News
|
■
DRINK GEORGIAN!
To add this Search Box to your website, click here. Many designs are available.