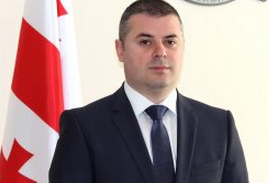 22.07.2014 (Hvino News). Otar Danelia, first deputy minister of agriculture, has been named today for the post of agriculture minister, replacing Shalva Pipia.
Georgia's Prime Minister Irakli Garibashvili announced an unexpected cabinet reshuffle on Monday. Seven ministers resigned, including Shalva Pipia. Mr. Pipia served as minister of agriculture since May 2013 (see
Georgia's agricultural minister resigned amidst fraud scandal)
.
"I am sure that with his creativity and motivation will lead the Agriculture Ministry with success," Prime Minister Irakli Garibashvili said of Mr. Danelia.
"All the projects initiated under my predecessor will continue, plus all those projects that the country has to implement as part of the commitments under the Association Agreement with the EU," Mr. Danelia said.
Otar Danelia was appointed as first deputy minister of agriculture in April, 2014. Before that he served as head of the Interior Ministry's Service Agency for few months and was deputy head of logistics department at the Interior Ministry since 2013. Otar Danelia has also worked in Georgian companies including SilkNet and Bank Republic, as well as in international organizations. Danelia studied law at the University of Tbilisi, he also graduated from the Diplomatic Academy.
© Hvino News
|
■
DRINK GEORGIAN!
To add this Search Box to your website, click here. Many designs are available.