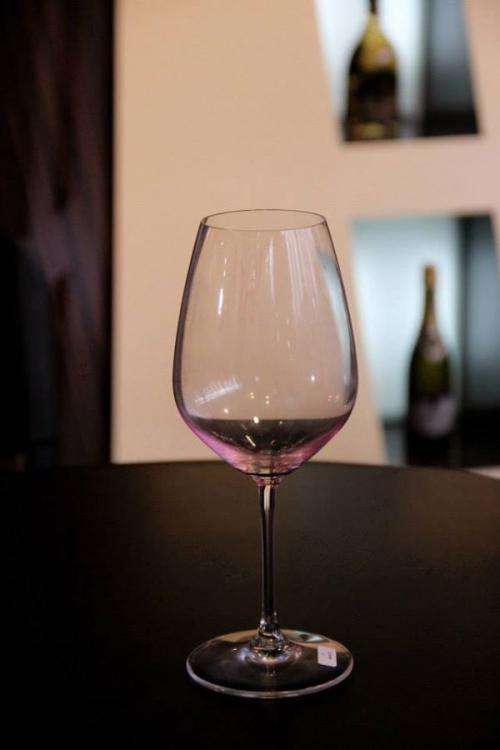 By Nana Kobaidze
07.07.2014. Not so long ago I wrote in
Marani
magazine about Georg Riedel who is the tenth-generation leader and the owner of the world-renowned and family-owned Riedel Glassware Company. This person plays an important role in promoting different beverages to reach their success. Each glassware collection includes several different glasses suited to a particular varietal. Creating a varietal-specific glass collections greatly determines the recognition of that specific grape variety. Soon Saperavi will be added to that list. This is a very important event for Georgian wine since it will increase the awareness of Saperavi. Two weeks ago, Georg Riedel was visiting Tbilisi to hold a session about Saperavi wine glass and discuss its design at WinExpo Georgia 2014. Before I write about his visit in detail, let's take a look at the history of Riedel company.
Georg J. Riedel Biography and Timeline
Georg Josef Riedel joined the family business in 1973. During his management, the company that dates a quarter of a millennium, became one of the most successful stemware brands in the world. Launching the subsidiaries in the U.S., Canada, Germany, Japan, China and Grat Britain also fueled the company's success.
In 1986, Georg Riedel introduced Vinum collection with its affordable price point, which became Riedel's best-selling series. In 2004, Georg Riedel acquired the German glass company Nachtmann, together with theSpiegelau wine accessories brand, merging under the name "Riedel Glass Works."
In 1996,
Decanter
magazine nominated Georg Riedel
Decanter Man of the Year
. In 2006, he received an Award of Honour for Services to the Republic of Austria and in 2007 – an Award of Honour by the State of Tyrol. In 2009, Wirtschaftsblatt, the Vienna daily business newspaper, nominated him Entrepreneur of the Year.
This is an incomplete list of Georg Riedel's accomplishments. Still, his most impotant achievement is the worldwide recognition of his company that has been brought by the hard work and devotion of Riedel dynasty.

Personal and Professional Philosophies

"I am a person who lives in the here and now, rather than looking back," – this is Georg J Riedel's personal and professional philosophy. Despite the great success, he never allows himself to be satisfied and always aims at expanding the company's international standing.

As I've already mentioned, he is a representative of the 10th generation of the Riedel family. Each generation played a distinctive role in the development of the company. Georg Riedel's father, Claus J Riedel (9th generation), can be credited as the progenitor of the Riedel revolution whose innovative approach led to the creation of glasses, which allowed the wine to develop its true taste. 'Form follows function,' this was his approach. Working closely with a team of wine experts, Claus Riedel discovered that the shape and design of a glass could materially affect the way wine was received by the nose and palate. In 1960, Claus Riedel introduced ultra-thin glasses which led the company to achieve great success worldwide. Nowadays, Riedel is the world's leading glassware company.

In 1973, Claus Riedel created Riedel Sommeliers glasses, which has changed the perception about wine glasses and proposed a new approach to wine drinking experience. These handmade glasses were produced specifically for sommeliers. Claus Riedel came to conclusion that small wine glasses didn't allow wine to develop its true taste, while the shape and size of Riedel glasses helped wine express its best qualities. This line became very popular worldwie and was praised greatly by the wine-drinking world.

"They are the finest glasses for both technical and hedonistic purposes. I cannot emphasize enough what a difference they make," wrote Robert Parker in Wine Enthusiast.

Riedel Glass Anatomy

Riedel's theory about aromas is based on the biological anatomy of tongue: different receptors of tongue facilitate different sensations of taste. The taste buds for 'sweet,' for example, are on the tip of the tongue. 'Bitter' taste buds are way in the back. 'Salt' and "sour' taste buds are on either side of the tongue. The wide rim of wine glass allows wine to flow onto the front part of the tongue. A narrow rim, conversely, directs wine to the back of the tongue. The right wine glass should accentuate specific aromas and create a balance of fruit, tannin and acidity. Georg Riedel further developed his father's theory and created varietal-specific glass collections.

"It is an amazing and interesting, yet a very intense and diligent work that we do. It is more related to architecture than to art. The creation of Riedel glasses involves numerous degustations. Indeed, the most important aspect of this process is understanding the responsibility for creating varietal or region specific glass collections, for bolstering the reputation of the company that dates decades. This sense of duty forms a fundamental enrichment of my life. This is a true gift," said Georg Riedel in one of his interviews.

Soon Saperavi glass line will be added to the list of varietal-specific glass collections that include Cabernet Sauvignon, Shiraz, Pinot Noir, Malbec and many other prevalent grape varieties. Georg Riedel visited Tbilisi to discuss the future design of Saperavi glass. The event was organized by Georgia's Somellier Association and National Wine Agency. And, it all began with a vision of Shalva Khetsuriani, the president of Georgia's Sommelier Association.

From Dream to Reality

Shalva Khetsuriani got an idea about Saperavi wine glass about 7 years ago when he was tasting a wine in Riedel glass while visiting one of the foreign countries. 'I was drinking different wine, still, 'seeing' Saperavi wine in that Riedel glass," he said. Making his dream a reality took some time though. Funding was a main problem during the negotiations since it is quite expensive to create a new glass line. Indeed, all the obstacles have been overcome with the help of National Wine Agency. In January of 2014, the contract between Georgia's Sommelier Association and the Riedel company was signed. After that, the preparations for a national session have been started where the design of Saperavi wine glass was to be revealed. The organizers facilitated this event at WinExpo Georgia 2014 exhibition where a lot of enologists and winemakers come together.

Georg Riedel has been visiting Tbilisi for a day and a half, however, he managed to hold both – a masterclass and a session. As Shalva Khetsuriani noted, many people didn't believe he would arrive in Georgia since he is not fond of travelling. Still, after making a lot of effort, he was finally convinced to visit Tbilisi.

He's had some information about Georgian wine from different sources, however, his knowledge has not been deep. Since he is not an enologist and is not aware of details, he always asks professionals for an advice and creates new designs in consultation with them. As usual, he doesn't initiate the creation of new glass lines. Mostly, big companies or even countries are the ones who propose to design and introduce different glass collections for specific beverages. For example, he's created the Malbec glass for Argentina. His methodology for selecting the shape of a glass usually involves various sessions. He is always involved in the creative process. However, he is a participant, a moderator rather than a decision maker. This was the case with Saperavi glass as well.

The First Day – Tasting

On the first day of his visit, Georg Riedel held a masterclass for Georgian wine professionals and connoisseurs, where he offered red wine tastings and explained to the audience how the shape of a glass affects the way wine is received by the nose and palate. There were 100 participants in total, which included wine specialists, wine lovers and generally people interested in this industry. Iago Bitarishvili, a winemaker, was one of them. 'It was a very interesting degustation that started with water tasting. For some people it might sound funny, but even water tastes different when consumed from various Riedel glasses. The second step of the seminar compised a wine tasting. He brought three most distinctive reds – Cabernet Sauvignon, Pinot Noir and Shiraz – that we tasted from three different glasses. He's explained what a difference it makes when Cabernet Sauvignon is tasted from the varietal-specific glass. Some people think that wine glass only affects the nose, but this man proved there should be a balance between the taste and the aroma. The ideal wine glass creates the harmony of aroma and taste. For some members of the audience this has been a discovery and some of the participants have regained their knowledge about it. One thing is obvious though – Riedel has been able to convince the audience that the shape of the glass plays an important role in the wine-drinking experience," he said.

The Winner – Wine Glass #11

On the second day of Riedel's visit, only wine professionals participated in the session. Ninety-nine wine specialists were devided into three groups and each of them was given 16 wine glasses. Along with Riedel, the group tasted the wines in 16 shapes and sizes of glassware, ultimately using a process of elimination and an election to determine which of the options best complemented the varietal's inherent properties. As Shalva Khetsuriani noted, Riedel follows the same principle everywhere: First, he offers participants specific number of glasses, which usually includes one or two that he thinks will suit that particular varietal the most. However, the participants are not aware of this fact. The one he favors the most sometimes does become the winner and in some cases, it doesn't. The Malbec glass, for example, was his pick as well. However, that has not been the case with Saperavi: Georgian wine specialists happened to choose different sample glass as a winner.

'We were tasting the wine from every glass and eliminating step by step the glasses that we thought didn't accentuate Saperavi aromas and taste,' said George Samanishvili, an enologist and one of the participants of the degustation. 'The degustation process itself consists of three steps: visual side is evaluated, also aroma and taste. In this case, we've been interested in taste and aroma. The participants of such sessions are working independently, that's why the results are exceptionally interesting. Finally, the winner has been revealed – the wine glass #11, which has turned out to be the pick of all three groups. This glass allowed Saperavi to develop is true aroma and taste. By the way, the winner glass resembles the one we used at the exhibition. The only difference it has is that it's slightly bigger. Even though this is not a revolutionary step, it is still an important fact that promotes Georgian wine. Riedel is the leading manufacturer of sommelier glasses, that's why the creation of Saperavi line will have a positive influence on the consumers, especially outside of the country.'

Shalva Khetsuriani also talks about the importance of this event: 'Georgian wine has two frontrunners. One of them carries a bigger leverage than the other. The latter is in no way less interesting though. The first one is Saperavi, an international varietal that allows us to become a more interesting place in the wine world. Famous wine producing countries regard us as their equal wine civilization due to this varietal. The second one, white qvevri wine, altough not as well-known as Saperavi, is more like a niche and requires proper understanding from the consumers' perspective. The right promotion can make it no less interesting. Still, Saperavi in the most important one, which again will attract the worldwide interest as Riedel Saperavi glass will play its role in this process. This very significant event highlights the acknowledgment of this particular grape. When Riedel decides to create a varietal-specific glass, that means that varietal is worth it.'
In the Name of Afterword
In a nutchel, the prototype of future Saperavi glass is selected. According to the session participants, the glass is visually attractive and delicate, which is important. As to the next step, Riedel will send Georgian wine experts several unique glass samples to test them again and select the one, which will become a benchmark glass for Saperavi worldwide. Presumably, the process will be brought to an end this year.
As Shalva Khetsuriani has noted, the next phase of collaboration with Riedel aims at creating a varietal-specific glass shapes for Kakhetian qvevri whites. The utmost goal of the next year is to create the glasses for Chacha beverage. The organizers plan to mark the birth of each glass by holding big celebrations. Hopefully, we will be the spectators of those days soon.