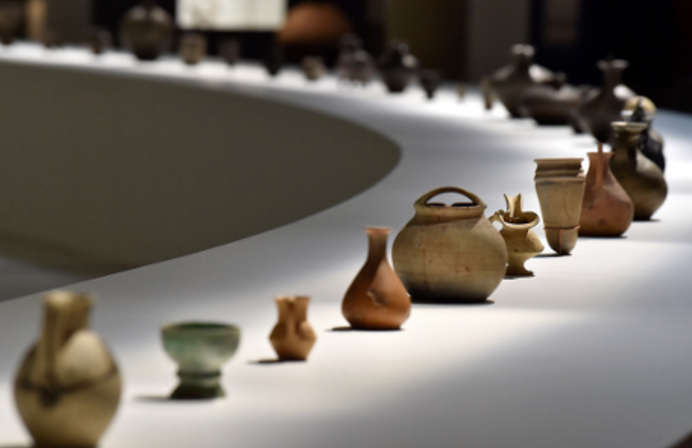 Photo: Getty Images
by Alexandra Lesieur
29.07.2017. France's Cite de Vin museum will toast Georgia's 9,000-year history as the global birthplace of wine-making in a new
exhibition
from Monday.
The wine history museum in the southwestern city of Bordeaux - dubbed "adult Disneyland" when it opened last year - will showcase 125 objects from the Black Sea nation dating back as far as the Neolithic era.
"We're trying to show how much the phenomenon of wine has been an inseparable part of daily Georgian life and culture since the very beginning," exhibit commissioner Nino Lordkipanidze told AFP.
More than 39,000 people flocked to the museum in the French wine capital this year to see its first major exhibition, "Bistrot!", gathering works of art portraying cafes and bars over the ages.
The Georgia show will see pottery fragments dating back to the 6th century BC - containing traces of tartaric acid, proof of the presence of wine - go on display for the first time.
It will also feature a partially-reconstructed "marani", or Georgian wine cellar, and the large egg-shaped clay pots known as "kvevri" that are still used by Georgian wine-makers today.
The museum is also putting on a series of talks, concerts, film screenings and, of course, wine tastings.
Archaeological finds have shown that viticulture in Georgia dates as far back as 7,000 BC, well before western Europeans were even thinking about having a tipple.
Grapevine tendrils have even been found buried next to human remains.
"The vine accompanied the buried person in their journey to the hereafter," Lordkipanidze said.
Early Georgians mulched grapes in their entirety -- juice, skins, pips, stems and all - and left the mix to ferment in
kvevri
, stored in underground pits to keep the liquid cool.
The pots and the process are still used nowadays for reds and whites, and as the taste for naturally-made wines spreads globally, winemakers as far afield as Australia and Italy are mimicking the old technology.
The kvevri clay-pot method of fermenting wine won a place in 2013 on Unesco's list of the "intangible cultural heritage of humanity".
To add this Search Box to your website, click here. Many designs are available.