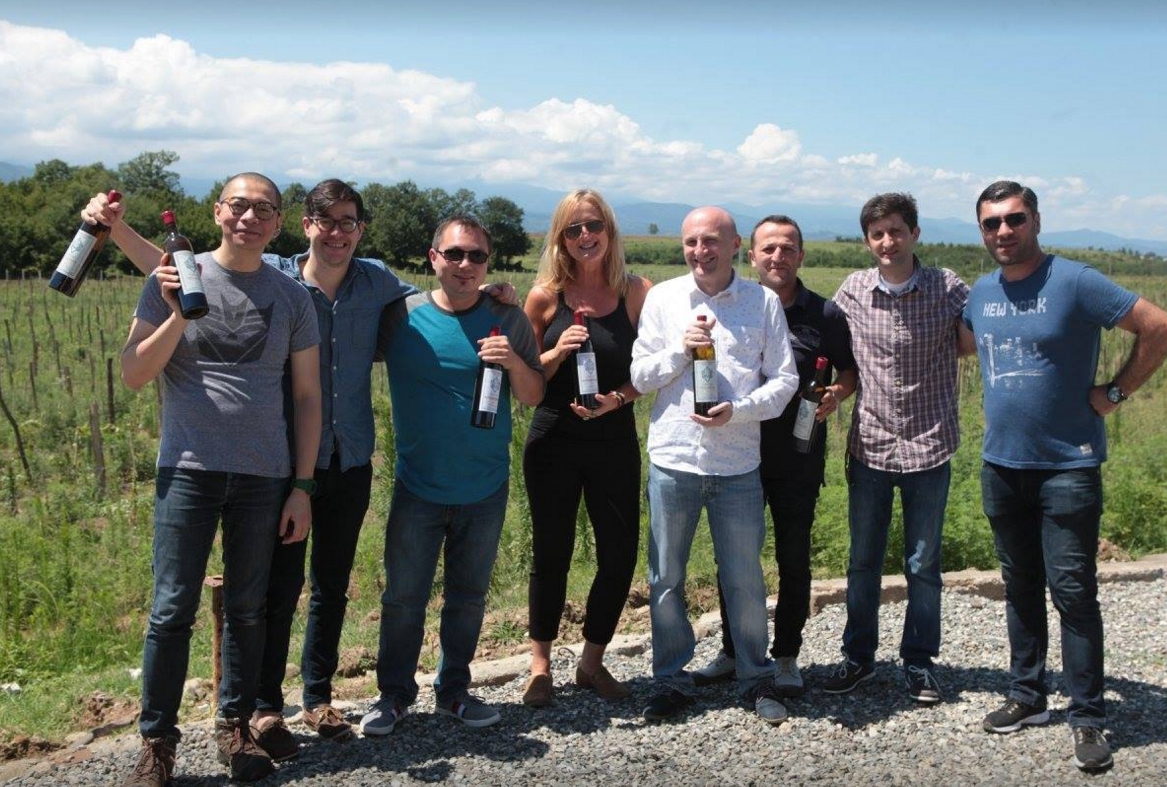 14.07.2017 (Hvino News). A group of wine experts from USA is visitig Georgia to explore wine cellars in Samegrelo, Imereti, Kartli and Kakheti. The visit was organized by the National Wine Agency.
The group of wine professionals is headed by Julie Peterson of Marq Energie, an American marketing agency and National Wine Agency's contractor.
"We are here this week in Georgia with a group of sommeliers from the US market, from some of the top restaurants, because we are trying to introduce them to the exciting wine environment in Georgia. This year, exports have been up 43% from last year to the US market. In this group we have sommeliers from Chicago, Saint Louis and New York City, and we have a waiting list of other sommeliers from the US market who are really interested in exploring and understanding what is happening in Georgia right now" - said Julie Peterson.
The sommelier of one of the top restaurants in New York, James Slay is specially attracted by Aladasturi. He says that it's been a long time he wanted to come to Georgia and taste the wines at the place of its birth.
"Wine is made by traditional methods in Georgia, but they are experimenting and changing, that's what really inspired me to come on this trip. In addition to that, what I have learnt or started to understand is moving across the country starting in Tbilisi, and going all the way to Imereti and coming all the way back here in Kakheti seeing the range and the diversity in terms of regionality, and in terms of being able to stand in he place and feel the sun here, the way the rain feels, the way the air feels and the great varieties being different in styles and wine being different and the lightness and the freshness of Western wines and intensity and the power and concentration and structure of the Eastern wines, I started to understand Georgian wine not just as a single thing, not just as Georgian wine, but as a whole spectrum of different sort of possibilities and flavors, and even though I have tasted 30 Georgian wines, I came here and tasted so many great varieties I had never tasted before, Aladasturi for example in Imereti was like I could not believe what I was tasting, I've never had anything like that not from Georgia, not really from anywhere" - stated the sommelier.
Under the frame of the tour, American sommeliers visit the following wine companies: Iago, Chateau Mukhrani, Ramaz Nikoladze Wines, Oda Family, Martville, Vartsikhe, Winery Khareba – Imereti, Telavi Wine Cellar, Tchotiashvili Wine Cellar, Schuchmann Wines, Orgo/Vita Vinea, Shalauri, Shumi, Chelti, Papari Valley, Okro, Pheasant's Tears, Askaneli Brothers, Shavnabada, Lukasi, they also visited a
qvevri
-maker Zaza Kbilashvili.
The US is one of the growing export markets for Georgian wines. During the first six months of 2017, Georgia exported 176,274 bottles of wine to the US, which was 43 percent more compared to the same period of 2016.
© Hvino News
To add this Search Box to your website, click here. Many designs are available.