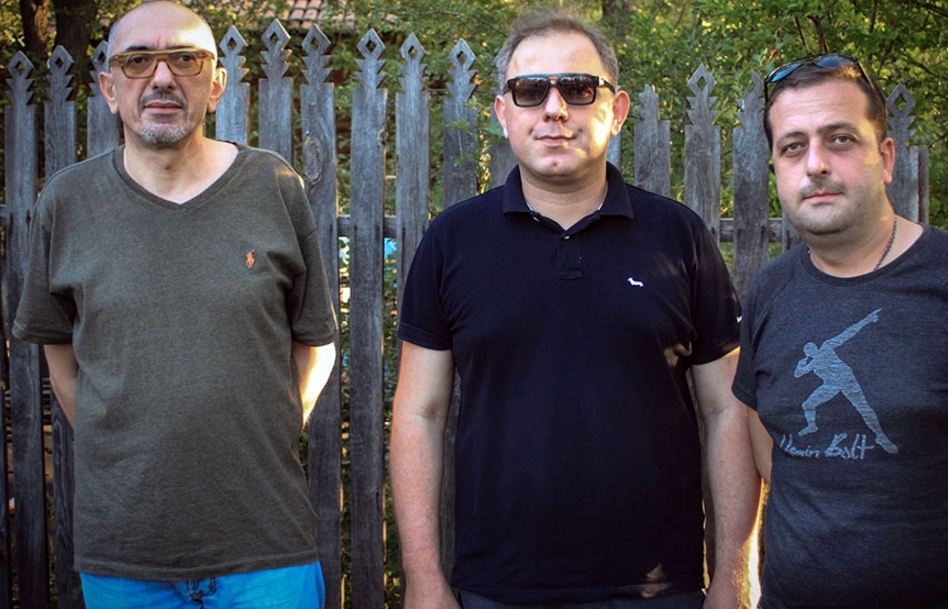 Photo: Paul Rimple

by Paul Rimple
24.07.2017. In the 1975 short film Gvinis Qurdebi (Wine Thieves), four mischievous villagers sneak into a stingy neighbor's wine cellar, crack open his
qvevri
(enormous ceramic urn) and start drinking the wine stored inside. As they get drunk and rambunctious with toasts and song, they wake the winemaker who ends up joining them.
It is in this same spirit of Georgian
joie de vivre
that Avto Kobakhidze, Givi Apakidze and Zaza Asatiani have come together to take other people's wine and sell it under their own label, Wine Thieves. Their catchphrase is "The finest quality Georgian wine 'stolen' exclusively for you," although nothing is actually ripped off. If they like a wine from a person with no resources to bottle his or her own vintage, the Thieves buy it at a price set by the winemaker, then bottle and sell it.
Helping humble winegrowers get their juice to market is nothing new in Georgia. Ramaz Nikoladze, the respected Imeretian natural winemaker, has helped get octogenarian Didimi Maglakelidze's sparse but exquisite Aladasturi and Tsolikouri vintages into bottles and onto tables in the U.S. and Europe. The difference with the Wine Thieves is that they are making a business out the practice.Motivated by a simple love of wine, these three friends started the business a year ago and currently have five family wines in their quiver: a Rkatsiteli-Mtsvane (made by Kobakhidze) and a Saperavi from Kakheti, a Chinuri from Kartli and a Tsolikouri from Imereti. In September they will add a rare Tetra from Racha and a Cabernet from Kakheti to the collection.
All are
qvevri
wines, which means they have been fermented and aged in large terra cotta amphorae buried in the ground. It is an ancient method of winemaking that Georgians have been practicing for thousands of years and is on UNESCO's List of the Intangible Cultural Heritage of Humanity.
The bold tannins rolling over the tongue tell you this is Kakhetian wine – brawny and heroic.
Kobakhidze and Apakidze make the wine selections. The two connoisseurs are co-founders of the Georgian Wine Club, which for ten years has been promoting traditional methods of local winemaking through festivals, tastings and classes. The club is also behind the annual New Wine Festival in Tbilisi, the leading celebration of wine in the country. As jurors, they come across hundreds of family wines, some brought to them in used plastic water bottles; about 80% are below average.
Contracts with the winemakers are short-term. The aim is to help family wineries learn to market their own wine. And because organic wines in particular can have a bad year, the Wine Thieves are free to add or drop a wine, depending on its quality. What you get in a bottle is some of the best tasting secret stash in Georgia.
Two years ago, the pair pulled Asatiani away from his whiskey tumbler and converted him to the wonderful world of wine. Now the marketing and sales professional swirls and noses wine while plying his talents with the Thieves.
"I'm just a city guy. I have no connection to winemaking," Asatiani admitted to us over a glass of Rkatsiteli-Mtsvane. "Avto and Givi introduced me to the world of Vino Underground and changed everything."
They raised eyebrows when they hit the market with their 2015 Saperavi, which featured on its label a naked woman drawn by the English artist Owen Gent, who licensed his image to the Thieves. In addition, the label for a limited edition of their apple wine featured a graphic of a woman's backside and a snake. While sexist wine labels are not exclusive to Georgia and have sparked a lot of debate on social media, Asatiani shrugged off the controversy, instead revealing the label for the up-and-coming Cabernet – a red pump with a corkscrew replacing the high-heel.
The Wine Thieves are currently negotiating the details of getting their Rkatsiteli-Mtsvane, Tsolikouri and Saperavi to California through Blue Danube, a Los Altos distributor with a sharp focus on rare, natural wines from Europe. A whiff of the Rkatsiteli-Mtsvane, a light amber wine, picks up dried apricot and oriental spices, and the bold tannins rolling over the tongue tell you this is Kakhetian wine – brawny and heroic.
"Our dream is to do business in the U.S. Georgia's main market is in China and Russia. The quality of these wines is compromised – factory wines in Moscow suck. But if our wine makes it to California, then that will be real success," Asatiani said, swirling the wine in his glass.
To add this Search Box to your website, click here. Many designs are available.