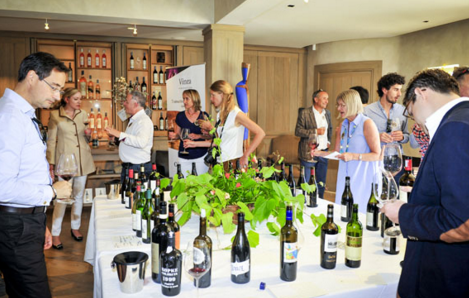 by Robert Joseph
What makes a wine 'fine'?
12.07.2017. Along with 60 or so wine enthusiasts, professionals and consumers I was lucky to be invited by Nicole Sierra-Rolet, co-founder of the le Chêne Bleu estate in the southern Rhône to try to answer this question at a weekend think tank snappily entitled "Fine Minds 4 Fine Wines".
The 'fine minds' Rolet had assembled included some eminent writers: Steven Spurrier, the man behind the Judgement of Paris tasting that first established California's right to stand on the same vinous podium as Bordeaux and Burgundy; Jancis Robinson of the
Financial Times
and
Oxford Companion to Wine
; and Michel Bettane, the unchallenged intellectual supremo of French wine. Among the 'outsiders' were Robin Niblett, director of the Royal Institute of International Affairs, better known as Chatham House; his colleague Elizabeth Linder, head of its Connectivity Initiative; the wonderfully named branding consultant, Minter Dial; and Rolet's partner in life and at the domaine, Xavier whose day job is to run the London Stock Exchange.
There were fewer producers and distributors than there might have been, but their team was well represented by Thibault Pontallier of Chateau Margaux, Victor Coulon of Domaine de Beaurenard in Chateauneuf du Pape and Andrew Caillard MW who both produces some terrific reds in the Barossa Valley and helps one of Australia's biggest distributors to select its wines.
How fine is fine?
One of the points on which we agreed was that 'fine wine' is generally produced in small volumes and with a sense of place. Complexity was naturally another prerequisite: the finest wines, it was suggested, actually defy description. At another table, Steven Spurrier – who had shared some of his own delicious Bride Valley English sparkling wine on the previous evening- quoted Hugh Johnson, saying that fine wine was 'worth talking about'. This met with a lot of agreement – as did several attendees' comments that fine wines affected the emotions as well as the intellect.
There was less accord over the future of fine wine, but the one point on which everyone did come together was that the term would be used to describe an increasingly broad range of wines.
Proof that this was already happening came at lunchtime following the discussions. Everybody present had been asked to bring a bottle that represented their idea of 'fine wine'. Unsurprisingly, there were some exceptional examples, ranging from 1991 Ridge Monte Bello from California to Château Margaux 2003 and 1997 Château Rayas Châteauneuf du Pape. I flouted the rules slightly by bringing two wines: a Chandon de Briailles Corton Bressandes 2011 and – my wild card – a Lukasi Saperavi 2014 from Georgia.
I'd first tasted this wine on my trip to Tbilisi with Sarah Abbott earlier in the year and been really impressed by its combination of concentrated dark berry flavours, well handled oak and – for Saperavi – soft tannins. But it was a very young wine from a small producer of whom none of the tasters had ever heard. Indeed, for several I spoke to, it was their first experience of Saperavi or Georgian wine. As I placed it on the table, I wondered how it would fare.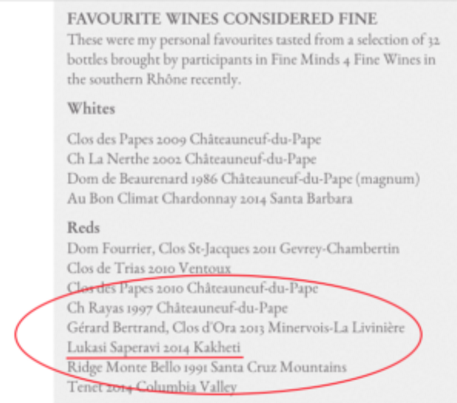 I was especially delighted to see the Lukasi feature on Jancis Robinson's website and in her
Financial Times
column among her dozen favourites of the tasting.
As editor of the
Oxford Companion to Wine
and co-author of the
World Atlas of Wine and of Wine Grapes
, Jancis Robinson is of course no stranger to Georgian wines, but I think this was her first encounter with this young producer. For her to place it unprompted alongside some of the top wines of the Rhône and California is a terrific honour for the winery, the grape and for Georgia. I look forward to seeing a growing number of other Georgian wines achieving similar recognition for their combination of complexity, sense-of-place, interest and their impact on experienced taters' emotions.
To add this Search Box to your website, click here. Many designs are available.