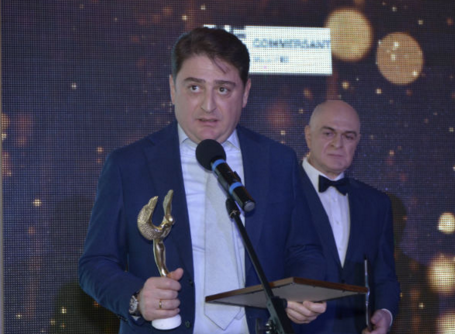 10.07.2017. Georgian wine company Kakhetian Traditional Winemaking is expanding further beyond Georgia and opening a representative office in China - one of the most promising markets for Georgian wine export.
"This will help us to conquer the Chinese market easier. At the same time we are improving our presence in Georgia and plan to open branded wine saloons in the big cities of the country," said Zurab Chkhaidze, Director of Kakhetian Traditional Winemaking.
Kakhetian Traditional Winemaking is one of the biggest companies producing wine and brandy in Georgia.
By merging modern technologies and ancient traditions of wine-making the company can preserve the old, unique taste of wine and create its own unrepeatable style.
Kakhetian Traditional Winemaking bottles wine in glass and also clay vessels made in a traditional way. The clay vessels give the wine a medicinal quality and ennoble its taste. Each clay vessel is unique, is made by hand and has got a special design, which is created exclusively for Kakhetian Traditional Winemaking.
In general the wine producer company produces premium class Georgian wine, brandy and
chacha
[a strong spirit similar to vodka or brandy which some people refer to as vine vodka, grape vodka, Georgian vodka or Georgian
grappa
] in accordance with international standards and by using the most up-to-date technology in order to preserve the centuries-long tradition of Georgian winemaking and deliver a superior product to its customers.
"We produce more than 100 varieties of wine, brandy and Georgian
chacha
. Dry and semi-sweet red wines are in demand on local as well as export markets. Also, the brandy Old Kakheti is very popular," said Chkhaidze.
Wines of Kakhetian Traditional Winemaking are exported to the United States (US), Sweden, Russia, China, Malaysia, the Czech Republic, Germany, Lithuania, Ukraine, and different European countries.
"Last year we started exporting our wine to the US and Sweden. We also signed a memorandum with our partner company in China to export one million bottles of Georgian wine to China. In general, the largest portion of our wines is exported to Russia, Ukraine and the Czech Republic," said Chkhaidze.
Last year the exports of Kahethian Traditional Winemaking wines increased by 15 percent over 2015.
"This year we plan to conquer Japan's market," promised Chkhaidze.
Recently Kakhetian Traditional Winemaking has been awarded the Golden Brand 2016 Certificate by Europe Foundation for the Best Food Enterprise of the year (2016) Competition.
"It is a great achievement, which was made possible by the participation of every single employee at KTW group," said Chkhaidze.
Q. Was 2016 successful for the company Kakhetian Traditional Winemaking and what was your biggest challenge and achievement this year?
A. Last year we added a new spirits distillery complex to an international standard grape processing plant that we built three years ago in Velistsikhe, a village of Georgia's wine region Kakheti. The plant is equipped with technologies that come from Italian company Della Toffola.
Thanks to Italian winemaker Vittorio Fiore we have created two new wines from the Iveria line - Mukuzani and Tsinandali. Also last year we made three varieties of sparkling wine with a classic champagne method at Guramishvili wine cellar which has been restored and renovated by the KTW Group.
Our company also produced classing and oaking wine.
The sales of KTW Group increased by 17 percent in 2016 compared to 2015.
The year 2017 started quite successfully. Compared to last year we have already felt a significant increase in sales and new competitors on the market.
This year we are expecting a harvest from Georgia's Kartli region for the first time. With these grapes we will produce different sorts of new wines.
Q. Georgia is famous for its ancient qvevri winemaking traditions. It is believed that Georgian wines made in a qvevri - a large, amphora-like clay vessel - have potential on international markets. What would you say to this?
A. Qvevri winemaking is the oldest and most traditional way of winemaking in Georgia. It has huge potential on international markets. This is proven by the fact that the traditional Georgian method of making qvevri wine has been approved by UNESCO for inclusion in their list of Intangible Cultural Heritage.
It is one of the priorities of our company to produce and promote
qvevri
wine.
Q. Which international exhibitions have you participated in recently?
A. Kakhetian Traditional Winery was represented at a number of international exhibitions in 2016-2017.
Among them I would single out the 'Prowein' and 'VineExpo2017' exhibitions. The international exhibitions 'FoodEx Japan 2016' and 'Wine and Gourmet Japan 2017' were also very successful.
Q. Besides Golden Brand, which other awards have you received?
A. KTW Group is the proud owner of a number of awards and certificates. Among them I would single out the Bronze Medal from Decanter world wine awards 2016. Another bronze medal was received at the ninth international exhibition of WineExpo 2016. Out of 95 participants KTW Group's 'Mtsvane' and 'Royal Mukuzani' wines were the winners of bronze medals.
In 2016 we were awarded a national business award.
Our 'Saperavi' from
qvevri
was awarded a silver medal at the international competition arranged by the company Alamesa.
We constantly participate in various competitions and are the proud winners of many.
Q. Your company is involved in wine tourism. What are the recent developments in this direction?
A. Wine tourism is one of the most important directions for us. Touristic objects of KTW Group have been operating very actively in Western and Eastern Georgia.
One of our successful projects is restoring the historical Wine Cellar of Thadeoz Guramishvili in Saguramo. The project - which includes a modern wine processing depot, a tasting room and other amenities - allows tourists to learn more about Georgia's famous wine.
Our company offers both wine and culinary tours in the ancient town of Mtskheta, where, for the first time in Georgia, The Georgian Chamber of Wine was opened.
Unique wine cellar 'Velistsikhe Veranda' hosts a number of visitors today 'Velistsikhe Veranda' is actively taking part in Georgian wine tours. Wine Cellar hosts local and foreign guests and offers the degustation of Georgian wine and brandy with different kinds of entertainment programmes.
We are now developing new touristic objects such as Aragvis Guli, Akhasheni Resort, and Royal Askana - which will be operational next year.
Q. KTW Group was planning to enter the hotel business in Georgia. Have you already started activities in this direction?
A. We have recently established a daughter company of KTW Group, KTW Development, which will build new hotels in Tbilisi and other regions of Georgia.
We have already started construction of small hotels and branded stores, first of all in Tbilisi and in Georgia's Black Sea resort town Batumi.
To add this Search Box to your website, click here. Many designs are available.