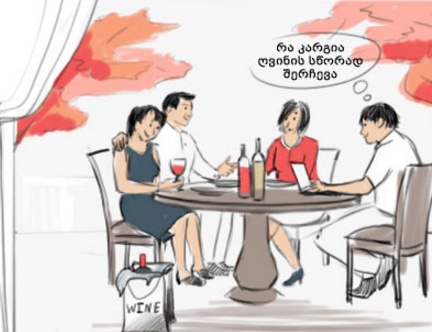 10.04.2016. The new online wine shop Bino.ge began operating on the Georgian market. The company's Director Giorgi Kumsiashvili says that the online platform was launched a month ago and currently the base includes 14 wine companies. The head of Bino notes that the customer demand is the same both for average and high price products. Bino provides a customer with specific information about each wine. According to him, he presented the online store idea at "Start-up Marani" event and one of the potential investors expressed his willingness to cooperate.
Commersant was interested in the local wine companies' opinion about this innovation. Georgian companies consider online wine sales promising.


The Shumi company is among those who is involved in the Bino project. The company's representative Eduard Khidirbegishvili believes that online sales have prospects but it depends on the company of how it will be able to use its opportunities. In Khidirbegishvili's words, the user prefers to buy wine in a store, but the trend could be reversed if the company works properly. Director of the bio winery Irakli Nikolaishvili notes that they are cooperating with Bino and, in his opinion, online sales have 100% prospect. Nikolaishvili notes that information about online orders must be available to tourists as well.
Irakli Iashvili's company Vaziani which first launched online sales in the Chinese market is not yet included in the "Bino.ge" database, however, the head of the sales department at the company says that very soon online sales will occupy their niche on the local market.
According to Irakli Talakhadze, Director of Kindzmarauli Wine Cellar, online sales justify themselves, because the distributors of various countries are actively using online sales and have good results. Talakhadze talks about the increasing trend of online sales and believes that this trend is very promising.
Source
To add this Search Box to your website, click here. Many designs are available.