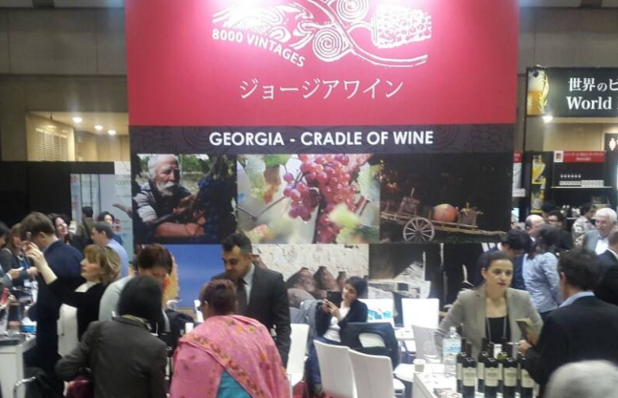 15.04.2016. (Hvino News). Eight Georgian wineries are currently being showcased at the 7th annual Wine and Gourmet Japan exhibition in Tokyo on April 13-16. This was the second time Georgia participated in the Wine and Gourmet Japan trade show.
Georgian delegation has become stronger compared to country's debut in 2015 with six companies (see
Georgia debuts at Wine and Gourmet Japan exhibition
). Represented companies are: Tbilvino, Wine Man, Bagrationi 1882, Kindzmarauli, Tsereteli Wine & Spirits, Maranuli, Dugladze and Besini.
Giorgi Tevzadze, representative of the National Wine Agency, hosted a Georgian wine tasting and seminar. Georgia's Ambassador to Japan, Levan Tsintsadze, and representatives of National Wine Agency attended Wednesday's opening of the event. "Presenting Georgian wine at Wine and Gourmet Exhibition is the best way to promote and bring products to the Japanese market and to find local distributors," reads the National Wine Agency's statement. "Last year, Wine and Gourmet Japan had more than 75,000 visitors. It is one of the most promising exhibitions in (East) Asia and the participation of Georgian wines is a main priority. This year the exhibition will bring together leading wine experts, importers and buyers from Asia."
The three-day Wine and Gourmet Japan has become Japan's hub for national and international wine, beer, spirits and traders in the gourmet food industry.
In 2015 Georgia exported 138, 290 bottles of wine to Japan – a five percent increase compared to last year's level.
To add this Search Box to your website, click here. Many designs are available.