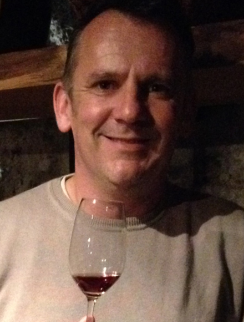 03.04.2016 (Hvino News). In March 2016 the UK-based Institute of Masters of Wine sent its delegation to Georgia. The first "Masters of Wine Trip to Georgia", organized in cooperation with Georgian Wine Association, was a highly professional event, which envisaged retrospective tastings of indigenous grape varieties as well as microvinifications of high-quality rare Georgian varieties. Hvino News has interviewed the participants of "Masters of Wine Trip to Georgia".

Today we publish the first interview from this series, wishing to thank the Institute of Masters of Wine for invaluable support. Our guest is Rod SMITH, Master of Wine, owner of the Riviera Wine Academy. He kindly agreed to share impressions about trip to Georgia.
Hvino News:
Please tell us about yourself, your background. What made you enter into the world of wine?
Rod Smith:
I fell into wine by taking a job at Christmas in a UK store called Oddbins when I was seventeen. It was an education in wine enthusiasm and I have been involved in wine ever since.
How the idea of this MT trip to Georgia came into being? Why you became interested in it?
Lisa Granik MW I think is the person to thank for making this trip happen. Although she lives in the States, there is Georgian in her blood, and she knows and is well known to all the Georgian producers. And loved, as we were to discover. For me, it was an easy decision – a country I had never visited that makes wine was always going to be of interest. But one that has made wine for 8000 years – that is very special indeed. I believe this was the most over-subscribed MW trip ever.
From professional standpoint, was your visit to Georgia a valuable experience?
Wonderfully interesting and hugely valuable. I think the highlight personally was to meet the Bishop and monks at the exquisite Alaverdi Monastery. The wines are astonishingly good, but it was also like going on a journey back in time. The modern wines of, for example, Chateau Mukhrani, deserve a place on the world wine stage.
How can you characterize the current place of Georgia among the world's wine producers?
Georgia suffers from a lack of knowledge and exposure, but not of quality and certainly not of tradition of generosity of spirit. Trips such as this can and will help spread the message. I believe the Georgian Wine Association has gained many friends for Georgian wine now, the world is listening.
What are the biggest obstacles, which lie in the way of a wider international expansion of Georgian wines?
Competition and competitiveness. The world has more wine than it needs, and finding new things is of no interest to the consumer who already finds wine too confusing as it is. But gradually what can start as obscure and individual can become more famous and mainstream. These things take time, but all the individual ingredients are there in Georgian wine.
You must have a wide experience with other countries and national wine industries. Are there any mistakes, which you are observing, or which you may warn against in the future?
There are lots. Competing only on price is a mistake in many markets – there is always someone bigger with more to lose, more to spend and less to protect. One thing – wine does not improve with more new oak. Oak only makes wines oakier, not better. We tasted many wines that rejoiced in their freshness and lack of overt sweet new oak flavours. With Saperavi especially, to drown out the lovely fruit flavours would be a mistake, and an expensive one. A mistake that many other countries have made before you, and subsequently corrected. Georgia can skip this step!
Let's talk about the wines per se. If you have personal likes or dislikes about any specific Georgian wines, we will be interested to know.
Qvevri
wines are great, and the trump card of Georgia. No one else has them. But they are hard to communicate. Georgia needs to make sure the world hears that it makes a great job of mainstream wine styles – albeit from wonderful indigenous varieties – as well as its unique
qvevri
contribution to the world of wine.
We sincerely hope that you had a chance to get familiar with some cultural treasures of Georgia. "Technical tastings and visits will be complemented with relevant elements of Georgian history and culture" – reads the short announcement about your trip. How was the aspect implemented?
Wine trips often fall into the trap of tasting after tasting and wineries showing you their entire range and shiny bottling line. But this trip avoided all that. We enjoyed a very carefully chosen selection of wines, and a variety of landscapes, wineries and people. Coupled with some astonishing cuisine, city tour, sulphur bath and wonderful people, means we all left with a great impression not just of Georgia's wines, but also of the circumstances and people that create them.
If you wish to send a personal message to the professional readership of Hvino News, the floor is yours!
Only
გაუმარჯოს/gaumarjos
! It was a fantastic trip, and I will be back!
Thank you very much, Mr. Smith, for taking time to answer our questions.
To add this Search Box to your website, click here. Many designs are available.