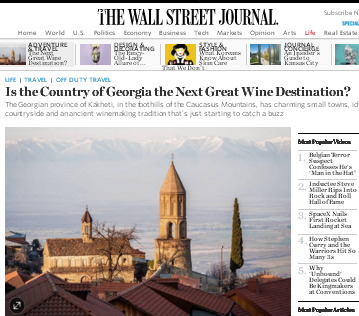 by Tara Isabella Burton
10.04.2016. The Georgian province of Kakheti, in the foothills of the Caucasus Mountains, has charming small towns, idyllic countryside and an ancient winemaking tradition that's just starting to catch a buzz.
It was 9:30 in the morning and I was already tipsy. At Twins Old Cellar Winery Hotel in Napareuli, a one-road village of stone houses and overgrown pomegranate trees in the Georgian province of Kakheti, breakfast came with an all-but-mandatory free wine tasting. For Eldar Ramishvili, the hotel's ebullient manager, a taste meant three full glasses.
Traveling through Georgia, the tiny post-Soviet country set between the Caucasus and the Black Sea, is always a metabolic endurance test. Wine, brandy, chacha—a grape-skin moonshine with the flavor of gasoline schnapps—all these are habitually, exuberantly, foisted upon any foreigner who sits still long enough. But in the country's primary wine region of Kakheti—according to Georgians, the birthplace of wine itself—consumption seems to be the primary occupation.
On the bright side, I'd been assured, I didn't have to worry about hangovers. Georgians hold that wine fermented the traditional Georgian way, in a qvevri (a 1,000-liter beeswax-coated terra-cotta jar buried in the earth), triggers no aftereffects. "It's the old Georgian way," Mr. Ramishvili explained, showing off the hundred qvevris that lined the winery floor. Fermenting wine "the European way" (in tanks, aging it in oak barrels) makes it "so…light. For appetizers." He gave a dismissive sniff. Qvevri white wine is sharp, strong, amber in hue—its color absorbed from the clay—or in the case of reds, so dark it's known as shavi gvino: black wine.
For thousands of years (the first qvevri shards date back to the 4th millennium B.C.), Kakheti's winemaking was largely a family endeavor. Even now, nearly every Kakhetian I met boasted of his personal backyard qvevri. Relatives who live in Tbilisi, Georgia's capital, some 60 miles away, still come out for the weekend with empty 5-gallon plastic jugs, which they'll fill up from auntie's backyard reserves before heading back home.
But wine is becoming less of a family affair in Kakheti and more of a commercial enterprise. Tourism has been on the rise throughout the country over the past half-decade, turning this picturesque province into a would-be Burgundy of the Black Sea. While the climates of Georgia's lowlands and the south of France are similar in terms of temperature and rainfall, Kakheti's rust-colored soil brings a dark earthiness to the region's wines.
"Many Georgian wines may lack the sophistication of wines produced with the help of modern technology," said Carla Capalbo, a food and wine writer, but at their best, "qvevri wines are like a pure expression of the fruit uncluttered by layers of oak, toast or tricks."
Twins Old Cellar, a wood-beamed, sprawling stone complex, each room sporting a goatskin tapestry, has a new wine museum, complete with a gift shop and life-size wax peasants. A few miles away, the elegantly minimalist Chateau Schuchmann—a German-owned winery-hotel—offers formal tastings and tours of its winemaking facilities. "In 2004, just 120,000 tourists came to Georgia," said Ilia Datunashvili, Schuchmann's manager. "Now, we've got 6 million. We're a small country, but everyone's motivated to work." Part of that motivation, Mr. Datunashvili explained, lies in a desire to be less reliant on Russia, the largest importer of Georgian wines and Georgia's recent political enemy. (Stalin was among the greatest aficionados of Georgian wine, importing vast quantities across the Caucasus by train.) Schuchmann, like many other large Georgian wineries, is focusing its efforts on tourists from America and other parts of Europe.
I felt this spirit of optimism and momentum at all the vineyards I visited. Chateau Mere, an eclectic winery-resort, has bearskin rugs alongside photographs of David Bowie and Elizabeth Taylor. Its jovial proprietor, Giga, mocked my salad dinner ("you are carrot!") as he brought me bowlfuls of fresh blackberries. An hour away is the Italianate hill town of Sighnaghi, whose pastel 19th-century houses were restored almost to uncanniness in 2007. There, the English-speaking staff at the American-owned Pheasant's Tears Winery, offers tastings and horseback-riding tours through the vineyards.
Outside its wineries, Kakheti has a sense of buoyant chaos. One afternoon, I took a walk to find one of the centuries-old monasteries that dot the province. Along the single provincial highway, lined with walnut trees and the odd Soviet memorial to World War II, black-clad women sold homemade honey and unherded cows held up traffic. When I found myself lost in a forest thick with butterflies, I came across an old man, his arms full of fresh-gathered mushrooms, who insisted he knew the way. He didn't. But as I forged on I noticed a mossy stone wall. Behind it stood a tiny Medieval chapel. No plaque, no people. Only the insistent buzzing of bees.
On my last day in Kakheti, I wandered through the covered bazaar in Telavi, Kakheti's provincial capital. I walked past women in kerchiefs hawking flushed-pink tomatoes and men selling repurposed Coke bottles of homemade qvevri wine for 80 cents, along with sheep's cheese from the nearby mountains. Two old men called out to me. "Tourist?" they asked. Then "Chacha?" They poured me a shot and we toasted in the Georgian way: to new friends, to love, to Georgia itself.
Source
To add this Search Box to your website, click here. Many designs are available.