by Stephen Meuse
24.04.2016. If the steeply winding, cobble-stoned climb from T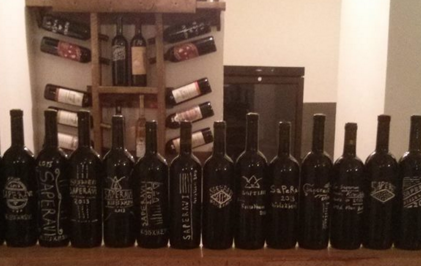 bilisi's old town up Metekhi Rise leaves you with any breath at all, be prepared for the view from its heights to rob you of it. Before you a broad swath of this wildly romantic city, old and new, unrolls like an exotic carpet — from the gracefully curving Mtkvari River and its incongruously modern Reebok sneaker of a bridge to the ancient and still imposing Narikala Fortress perched on an opposing hilltop.
We've made the ascent to this tidy, up-scale neighborhood because we've heard whispers of a little-known wine bar offering natural wines made by peasant vintners from indigenous Georgian grapes (with Armenia, Eastern Turkey, and northern Iran, Georgia shares the world's oldest wine culture), but finding it proves challenging.
A city-wide party whose reason for being we never discover is clogging the streets with revelers and the sandwich board that is the sole marker of the bar's location and which (we later learn) is normally positioned on the sidewalk had been taken in lest partying hoards invade the tiny space. It's not that they wouldn't be welcome. It's just that our destination isn't the kind that can, or cares to, cater to a crowd.
A bit of detective work and some helpful neighbors eventually put us right. A part-time labor of love for native Georgians George Korganov and Nino Shonia, Bottle Shock turns out to be a comfortable if sparsely decorated single room.
Six or seven tables and all the chairs (handmade by the couple) some low-key lighting, a bench piled with board games, and some original art (George's) attached to the walls with oversize paper clips is about all the decor the place can muster. You can readily imagine the opening scenes of Puccini's "La Boheme" being staged here.
And that's exactly the idea. After more than a year in business, Bottle Shock is still less a wine bar in the usual sense than a kind of under-the-radar gathering spot where the couple host their friends and a small, in-the-know clientele.
English is spoken but only Georgian is drunk. The wine list consists entirely of native Georgian wines that the couple personally selects in small batches from the countryside from vintners working in a traditional, natural way (that means, among other things, no sulfur dioxide added at any point). When they find something that meets their standards they buy a demijohn or two on consignment.
Bottling is done right in the shop. George hand letters labels for each with a liquid chalk marker and pours them with evident pleasure and pride.
The couple work as animators and graphic designers during the day. Proprietors and guests begin to wander in sometime after 4 p.m.
"My father and I made wine together as a kind of family tradition," Korganov says, "but I always knew I wanted to own a bar. There are plenty of party bars in Tbilisi. I wanted one that was small and served only very fine wine."
Nino's grandfather was a wine buyer for the state during the days when Georgia was one of 15 Soviet republics. She proudly showed us his picture in a yearbook from 1985 that described all aspects of the contemporary Georgian wine industry. With its unbroken tradition of winemaking going back at least 8000 years,
Georgia was the former Soviet Union's main source of wine under its command economy. Neighboring Armenia was given the job of supplying the brandy.
Some, but not all of the wine served here is made in the traditional large clay pot known as a qvevry (kwev-ree), which is buried in the ground. There was a time when almost every family with a bit of land here kept one whether it grew grapes or purchased fruit to ferment in it. Today a scant 2 or 3 percent of all the wine in Georgia is made in this primordial way.
When I ask about how these womb-shaped Caucasian vessels are so effective at turning roughly crushed grapes into delicately flavored and scented wine with virtually no winemaker intervention, George just shrugs. "The winemakers tell me they don't really know much about how qvevry work. They just say, 'I do it the way my father did.' "
We love what we taste here: an emphatically dry, salty, white blend of rkatsiteli and mtsuane from the village of Kvareli that smells a bit like fermenting apple cores, and a delicious red made from saperavi grapes from the village of Gurgaani that tastes of fresh black cherries and has a dry, lightly astringent finish.
"Of course, I'd like to be successful, George explains, "but I never want to lose what is good about this bar — a place where you can feel like family, where everybody knows you and will sit with you and tell you a story and you will drink perfect wine. Maybe later on you will eat something good, but the main thing is that it will feel like home."
Source
To add this Search Box to your website, click here. Many designs are available