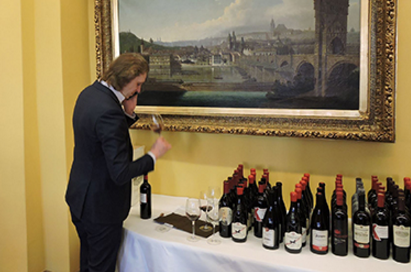 08.04.2016. Georgian wine is continuing to make an impression around the world; next destination – Baltic countries.
Georgia's National Wine Agency announced a number of events were planned to raise awareness of Georgian wine in countries across the Baltic Sea, such as exhibitions and wine tasting events where Georgian wine will be proudly presented.
Initially the Agency will promote the traditionally-made Georgian drink in Lithuania, Latvia and Estonia.
Baltic countries are one of the interesting export markets for Georgian wines. Different campaigns and activities are planned for these countries, which would increase Georgian wine sales there," said head of the Agency's PR and marketing department Irakli Cholobargia.
The Agency reported today Georgian red wine will be showcased in Latvia's capital Riga, after making an impression in Lithuania and Poland recently.
This week nine Georgian wine companies presented their locally-produced red wines in capital Vilnius and in Kaunas, a city in south-central Lithuania. At the events guests were encouraged to discover the rich history of Georgian winemaking and to taste unique red wines from Georgia.
The Georgian wine companies that were showcased in Lithuania were Shalvino, Georgian Wine House, Lukasi, Kakhuri, Georgian Legends, Wine Man, Winery Khareba, Winiveria and Usakhelauri.
Another wine degustation was held on March 30 in Poland's capital Warsaw. The main concept of the event was to show the tandem of Georgian wine and Polish cuisine.
At this event guests were invited to taste Georgian wine produced by Schuchmann Wines Georgia, Chateau Mukhrani, Vaziani Company, Telavi Wine Cellar, Kindzmarauli Marani, Corporation kindzmarauli, Archil Gunia Marani, Beka Gotsadze Marani and Nika Bakhia Marani.
Export figures released by Georgia's National Wine Agency revealed last year more Georgian wine was exported to Poland, Lithuania and Estonia.
Wine exports increased to all three countries:
Poland – by 1,600,302 bottles (three percent increase);
Lithuania – by 658,666 bottles (four percent increase); and
Estonia – by 506,124 bottles (54 percent increase);
Raising the profile of Georgian wine in European and Asian countries was something the country's National Wine Agency was actively pursuing.
Georgia was creating a wine network in China, increasing wine exports to Europe and the United States. The Agency expected export figures would rise further once Georgian wine was promoted in Baltic countries.
Source
To add this Search Box to your website, click here. Many designs are available.